Camden Rocks All Dayer feat Voodoo Diamond and more at The Monarch
The Monarch Bar and Venue | Camden, 40-42 Chalk Farm Road, Greater London
NW1 8BG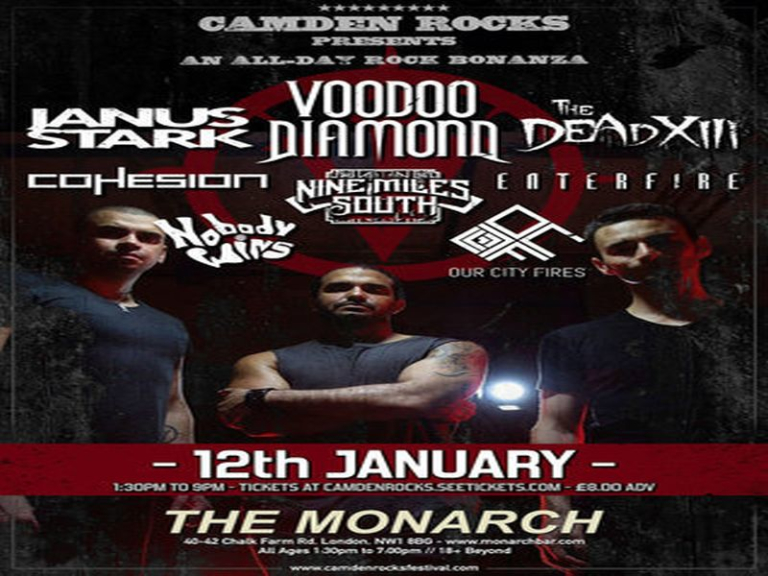 Voodoo Diamond, Janus Stark, The Dead XIII, Cohesion, Enterfire, Nine Miles South, Our City Fires and Nobody Wins live at The Monarch on 12th January 2019: http://po.st/CRP0112
Camden Rocks Festival proudly presents an all-day rock-n-roll bonanza feat. Voodoo Diamond, Janus Stark, The Dead XIII, Cohesion, Enterfire, Nine Miles South, Our City Fires and Nobody Wins live at The Monarch.
Since the continued success of Camden Rocks Festival, we're running a string of 'presents' shows to give you some of the best new alternative, indie, rock and metal music about!
Doors - 1:30pm to 9:00pm // Price - £8.00 Adv.
Tickets - http://camdenrocks.seetickets.com
Age - All Ages until 7:00pm, 18+ beyond.
••••••••••••••••••••••••••••••••••••••••••
About:
Voodoo Diamond - www.facebook.com/voodoodiamondband
Voodoo Diamond is a British metal/hard rock band from London, formed in 2014. The band's current line-up consists of vocalist/guitarist Filipe Martins, vocalist Alex Dias, bassist Doug Rimington and drummer Alejandro Alvarado.
Voodoo Diamond's debut album, "Darkness Becomes it", produced by Scott Atkins (Cradle of Filth, Amon Amarth, Sylosis) and mixed and mastered by Fredrik Nordstrom (Architects, Bring Me The Horizon, At the Gates, In Flames) was released June 22nd, 2018.
Janus Stark - www.facebook.com/JanusStarkBand
Janus Stark are a melodic Punk Rock band formed as an off shoot from Punk-Metal Crossover band English Dogs in 1996 by Gizz Butt (when in The Prodigy) and have influenc- es from Punk,Post-punk, New Wave and Hard Rock.
The Dead XIII - www.facebook.com/TheDeadXIII
Since bursting onto the scene in 2013, The Dead XIII have wasted no time in grabbing audiences by the scruff of their necks and laying waste to stages across the UK. The five piece have been on quite a run since the release of 'Catacombs', most notably for their song writing as well as energetic live shows. 'Daemons' is the fifth single to be released from the album - which has also spawned two lyric videos, a fan video and the bands stunning debut video 'XIII'. The Dead XIII were rated as one of Kerrang Magazine's top acts of 2015, and 'Catacombs' as one of the top albums.
Price:
General Admission: GBP 8.0
Artists: Voodoo Diamond, Janus Stark, The Dead XIII, Cohesion, Enterfire, Nine Miles South, Our City Fires, Nobody Wins