Love Food but Hate Waste - Quick Menu for a Monday Night with Sunday's leftovers
8th October 2010
... Comments
---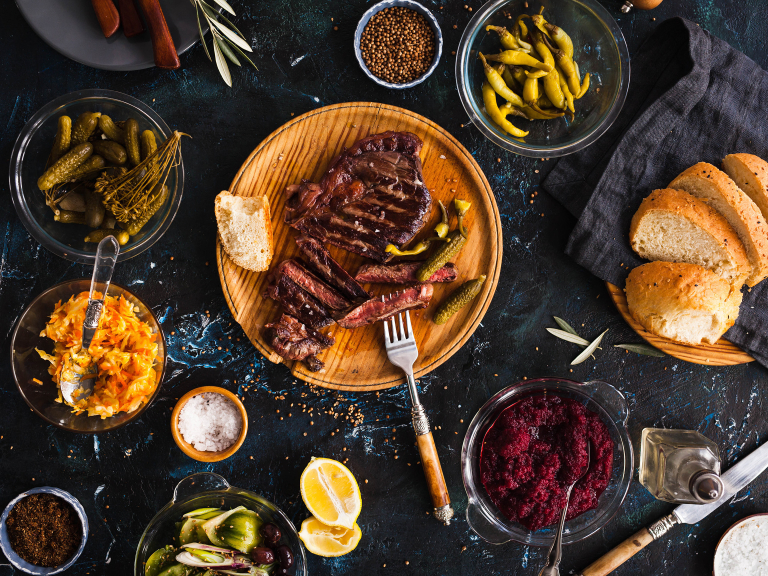 In this economic climate it always surprises me just how much we waste food.  When I was a child the leftovers from the Sunday roast would be the basis of Monday's dinner and stale bread would be made into bread and butter pudding.  So it was with interest when having lunch at Restaurant7teen in Carmarthen I met up with Brenda the Head Chef and partner in the business only to discuss the very same subject
Brenda has been devising a menu for people to take away with them to give the ideas of how to use left overs.  The sample I give today brought back happy memories.
This is a quick and easy menu for a Monday night.
To start
Homemade Fishcakes
Left over fish (this may be cooked or raw)
Mash down any left over potatoes with sauteed onions and any herbs you may have growing in your garden (or indeed in a pot in your cupboard) and season to taste
Flatten out pates of potatoes on a floured surface, place the fish in the centre on the potato pate leaving a 1 cm gap from the edge.  Place another potoato pate on top and shape to seal the edges.
Coat the fish cakes in flour, then roll in a beaten egg mix, and finally coat in breadcrumbs, (which will have course been made from stale left over bread) and shallow fry.
Left over's Main Course for a Monday supper
Take the left over meat from Sunday lunch. (this is better if still on the bone or part chicken) pop the meat, bones and any fat into a pan with hot water together either a stock cube or boullion and place on heat to simmer until the meat falls from the bone.  Remove the bones and any fat.  Skim any fat from the surface of the stock and slowly add a paste of flour and water to thicken, add seasoning  to taste and re add the meat. A quick casserole.
Finely dice all the left over veg and mash all left over potatoes. Combine the two together and shape into pates.  These can then be shallow fried for Bubble & Squeak.  Serve your Bubble and Squeak with your casserole.
By the way I and my colleague had a scrummy lunch at Restaurant7teen - not from leftovers but a lovely freshly cooked chicken and fresh vegetables.  If you know of any recipes using leftovers, do share them with us and our members on thebestof Carmarthenshire