Gluten Free? Do you have problems eating out?
14th July 2009
... Comments
---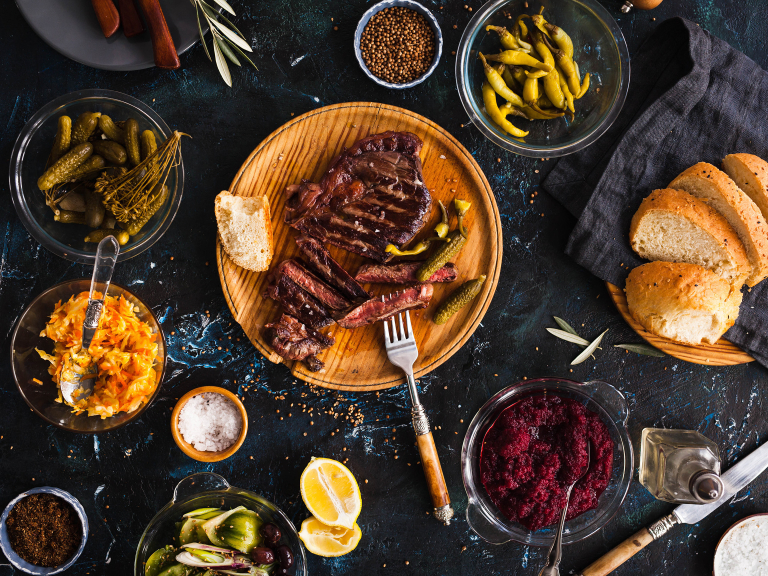 My hubby and I love entertaining and equally love going to friends for lunch and dinner too, but this regularly causes problems in my hosts understanding my dietary needs.  Much confusion arises with what gluten is and where it is found.  Basically gluten is found in Wheat, Rye and Oats.  Simple you might say but the sad thing is that food producers and manufacturers often use particularly wheat products as fillers.  In fact you can find wheat in the most unlikely of places. 
You would think tins of tomatoes would be safe but no – many contain gluten as a way of thickening the juice.  Baked Beans are another food to be aware of if you are gluten free.
Being allergic to gluten is not just a fad.  Coeliac disease can be very serious if gluten is ingested. Click here for more details on the disease.
So back to common myths.  Many people are not aware that Pasta does not grow on trees but is in fact made usually from durum wheat (full of gluten).  If friends are throwing a pasta party I bring my own gluten free pasta.  There are many now on the market but my favourite is Doves Organic Rice Pasta.  I have served this to friends and they have known the difference.
Things to look out for when eating out either at Pubs or Restaurants and indeed with friends.
• Pasta!
• Gravies and Sauces – all are normally made with flour so gluten will be involved too!
• Mayonnaise – many commercially made mayonnaise contains gluten.  Why you may ask?  Why indeed – it is mainly used as a filler
• Pastry – this should be obvious but less obvious would be casseroles that would have flour/gluten as a thickner
• Many meat before it is cooked is coated in flour.
• Even freshly dressed Crab has breadcrumbs mixed in with the crabmeat.  Many are not even aware breadcrumbs are used especially if bought in.
• Stuffings – nearly always use breadcrumbs
• Most puddings and desserts.  Even ice creams can contain gluten so  the gluten intolerant must be aware.
So what can we eat.  Well almost anything except gluten
• Meat
• Fish
• Shellfish
• Vegetables and Fruit
• Cheese
We just need to be careful of with what we cook the above!  It certainly does ensure that most of our meals are cooked from scratch with fresh ingredients.  Not bad really for a healthy lifestyle!
But us gluten intolerant do like the odd treat and there is nothing better than one of my gluten free cakes. See below for the recipe of my Lemon Polenta Cake (Gluten free version Lemon Drizzle Cake)
Lemon Polenta Cake
Ingredients: 
250g butter
250g caster sugar
6 large eggs, beaten
250g ground almonds
175g Polenta
1 teaspoon baking powder
Zest and Juice of 3 large lemons
Lemon Glaze
Peel and Juice of 2 lemons
200g caster sugar
A little water
Method
1. Cream butter and sugar until light and fluffy. Gradually beat in eggs.
2. Fold in almonds, polenta, baking powder, lemon zest and juice.  Mix thoroughly.
3. Spoon mixture into prepared 10inch baking tin and bake for 50-60 minutes at 180 º C (350 ºF, gas mark 4). 
4. Meanwhile prepare the Lemon Glaze by paring thin strips of lemon peel from the 2 lemons.  Place in saucepan with lemon juice, sugar and water.  Bring to the boil and then simmer until a thickish syrup.
5. When cake is cooked, set aside to cool for around 10 minutes and then remove cake from tin.
6. Spoon the syrup over the top of the cake whilst the cake is still warm.
7. When completely cool cut into portions.  Wrap in foil to keep moist and fresh.  This cake freezes well,  but defrost at room temperature.
Enjoy!!!
Waverley Health Food Store in Lammas Street Carmarthen stocks many gluten free products, do drop in – they are really helpful.