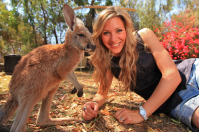 Countryfile and CBBC presenter Naomi Wilkinson presents new family friendly, animal & adventure tour, Wild & Scary
Children's TV presenter Naomi Wilkinson is embarking on a nationwide tour, Wild & Scary, in spring 2017. This family friendly show will be packed full of fun and surprises! Join Naomi as she recalls some of her most exciting and adrenaline-boosting wildlife experiences from the far flung corners of the world, and even introduces the audience to some fierce and frightening animals she has met along the way!
Naomi will be joined on stage by 'Animal Mark' (Mark Amey), and some of his scariest creatures. Mark Amey is a Zoologist BSc and lifelong naturalist keeper and breeder of exotic pets. Mark has starred in and worked on countless TV shows and films, looking after amazing animal stars!
Naomi is the presenter of CBBC's Naomi's Nightmares of Nature, in which she travels the world to come face-to-face with animals that initially seem weird, dangerous or downright scary. Naomi is also a regular presenter for BBC1's Countryfile and was honoured to be a judge for the 2015 Countryfile Photographic Competition.
Ideal for families with children aged 5 years or older, Wild & Scary will keep everyone on the edge of their seats as Naomi takes them on a tour of the world. From Borneo, to Belize, Africa to Australia, she and Mark will be spilling secrets and astounding kids with their adventures from all over the planet. Naomi and Mark will be joined on stage by some of the scariest animals they've met on their travels, giving the audience an incredible interactive experience unheard of in traditional theatre shows.
Naomi is also really keen to help others get over some of their fears of certain animals, just as she has done over the years. Having previously been terrified of both spiders and sharks, and even going as far to call herself an 'arachnophobe', Naomi has conquered her fears by learning about these amazing animals and believes she can help kids around the country do the same. 
*thebestof cannot be held responsible for any changes, amends or cancellations of an event
Contact us: 02920878444

visit us

St David's Hall, The Hayes, Cardiff
CF10 1AH