Cannock Chase Parkrun
Marquis Drive
Cannock
Staffordshire
WS12 4PW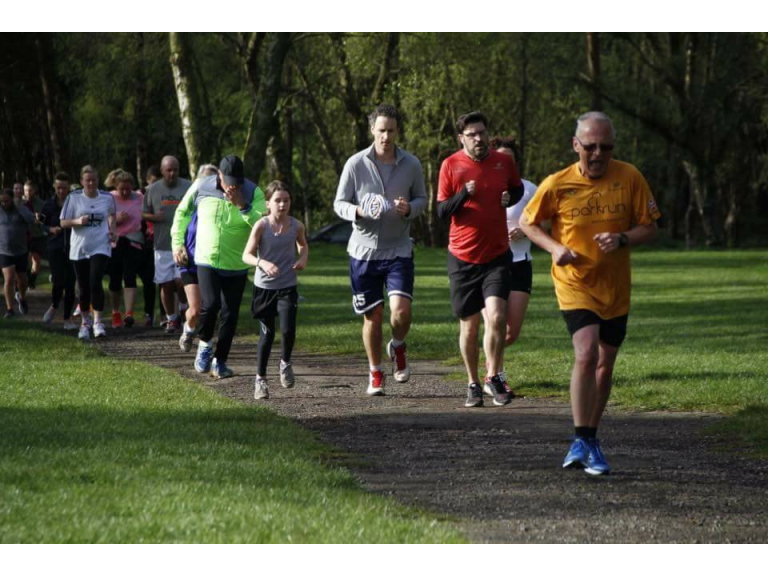 Weekly Free 5km Timed Run on Cannock Chase.
What is Cannock Chase parkrun?
It is a 5km run - it's you against the clock.
When is it?
Every Saturday at 9:00am.
Where is it?
The event takes place at Cannock Chase, Marquis Drive, Cannock, Staffordshire, WS12 4PW. 
What does it cost to join in?
Nothing - it's free! but please register before your first run. Only ever register with parkrun once. Don't forget to bring a printed copy of your barcode. If you forget it, you won't get a time.
How fast do I have to be?
We all run for our own enjoyment. Please come along and join in whatever your pace!
We're friendly!
Every week we grab a post parkrun coffee in the Cannock Chase Visitor Centre Café - please come and join us!
Future dates
Saturday 18th April 9:00am until 11:00am
Saturday 25th April 9:00am until 11:00am
Saturday 2nd May 9:00am until 11:00am
Saturday 9th May 9:00am until 11:00am
Saturday 16th May 9:00am until 11:00am
Saturday 23rd May 9:00am until 11:00am
Saturday 30th May 9:00am until 11:00am
Saturday 6th June 9:00am until 11:00am
Saturday 13th June 9:00am until 11:00am
Saturday 20th June 9:00am until 11:00am
Saturday 27th June 9:00am until 11:00am
Saturday 4th July 9:00am until 11:00am
Saturday 11th July 9:00am until 11:00am
Saturday 18th July 9:00am until 11:00am
Saturday 25th July 9:00am until 11:00am
Saturday 1st August 9:00am until 11:00am
Saturday 8th August 9:00am until 11:00am
Saturday 15th August 9:00am until 11:00am
Saturday 22nd August 9:00am until 11:00am
Saturday 29th August 9:00am until 11:00am
Saturday 5th September 9:00am until 11:00am
Saturday 12th September 9:00am until 11:00am
Saturday 19th September 9:00am until 11:00am
Saturday 26th September 9:00am until 11:00am
Saturday 3rd October 9:00am until 11:00am
Saturday 10th October 9:00am until 11:00am
Saturday 17th October 9:00am until 11:00am
Saturday 24th October 9:00am until 11:00am
Saturday 31st October 9:00am until 11:00am
Saturday 7th November 9:00am until 11:00am
Saturday 14th November 9:00am until 11:00am
Saturday 21st November 9:00am until 11:00am
Saturday 28th November 9:00am until 11:00am
Saturday 5th December 9:00am until 11:00am
Saturday 12th December 9:00am until 11:00am
Saturday 19th December 9:00am until 11:00am
Saturday 26th December 9:00am until 11:00am
Saturday 2nd January 9:00am until 11:00am
Saturday 9th January 9:00am until 11:00am
Saturday 16th January 9:00am until 11:00am
Saturday 23rd January 9:00am until 11:00am
Saturday 30th January 9:00am until 11:00am
Saturday 6th February 9:00am until 11:00am
Saturday 13th February 9:00am until 11:00am
Saturday 20th February 9:00am until 11:00am