Philips High Bury Hospice Art Auction now live!
Rochdale Old Road
Bury
Lancashire
BL9 7RG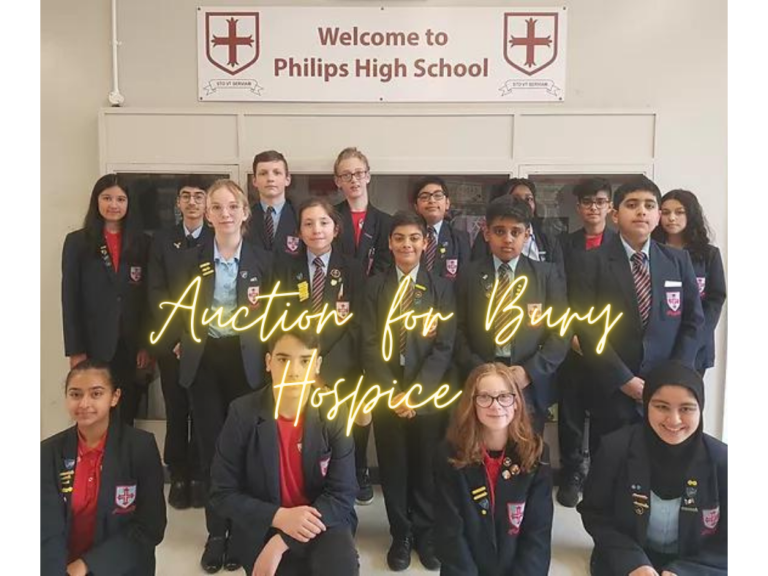 As part of the Bury Hospice 2022 Business Innovation Challenge, Students from Philips High have launched their Bury Hospice Art auction online to raise much needed funds for the hospice.
Over the last 6 weeks, a group of very keen year 7 and 8 (age 11 and 12) students from Philips High have been working hard on developing a business concept as part of the 2022 Bury Hospice Business Innovation Challenge.   Last week they were excited to launch their concept to the public:
Bury Hospice Art Auction! www.buryhospiceartauction.com
The website links you to an interactive VR Art Gallery, so please take a few minutes to look around the website which they have created to showcase all the great pieces of artwork available for sale.  Every item has been created by a talented Philips High student, past or present. This is your chance, and a fabulous opportunity, to own an original piece of art from a very talented group of Bury students – maybe a future Hockney or Warhol! If you purchase a piece for your office wall or reception, Bury Hospice will provide a pespex ' Museum Label' to go underneath the picture to show your support for the Hospice and the picture details. As well as the website recognition from Philips High we will also issue a thanks through the Hospice social media and in our promotions.
Tom Postlethwaite, from PwC, who is the business mentor for the team at Philips High comments, 'the team has been hands-on every step of the way from identifying a business concept, working on the technical aspects of the website design and selecting and photographing the art itself. '
Tom continues, 'All successful bidders will be added to our thank you page on our website. As well as purchasing wonderful artwork, you will be helping a fantastic cause in Bury Hospice. So we really hope that you will take a moment to look around and consider making a bid!'
Please do support these young artists and budding entrepreneurs – they have worked very hard on this concept!