Date:
22/05/2015
Mystery and awe surrounds The Lost Carnival, a four-day, family-friendly festival full of music, circus and surprises that will be taking place in Bury, this summer.

Date: 14/06/2015
Watch the fantastic Bury Lions Carnival on Sunday 14th June 2015!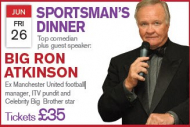 Date: 26/06/2015
A fabulous night of entertainment with one of the biggest names in football.