Have you booked your Christmas Party at The Bolholt Country Park Hotel yet?
Christmas is only a few weeks away and if you haven't booked yet, you may miss the opportunity to enjoy a Fabulous Festive Season! Following the restrictions that we have all endured during the past few months, we are long overdue the chance to relax, let our hair down and party!
The Bolholt Country Park Hotel is a much-loved local venue with a strong tradition of superb Christmas celebrations and 2021 is no exception.
New Year will also be a wonderful opportunity to wave farewell to the old year at their glamorous champagne night and welcome in the New Year, 2022 and a fresh start!
What can you expect at The Bolholt Country Park Hotel this Christmas?
Friday the 3rd, 10th and 17th December,
Fancy a Night of Chance at the Fun Casino? Be welcomed by their Vegas showgirl and of course, the chance to enjoy the fabulous Christmas Menu. By the time the bar closes at 12:30am you will have enjoyed a truly memorable evening!
Tinsel Lunch with all the trimmings? A sumptuous four course pre-Christmas lunch with piano accompaniment, which is held on the 7th and 14th December.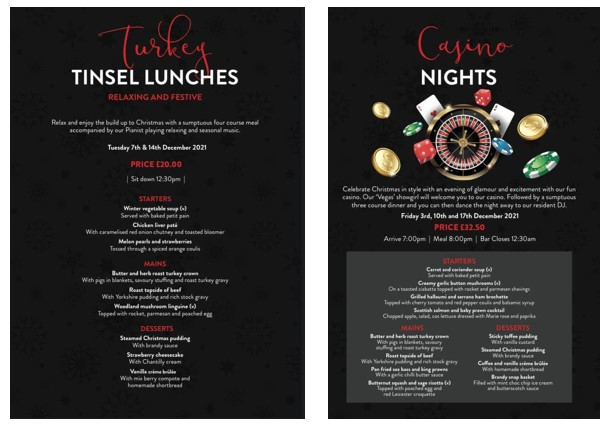 Christmas lunch on the big day will be absolutely wonderful, cooked to perfection and served beautifully.
New Year's Eve night of glamour and excitement with sophisticated elegance!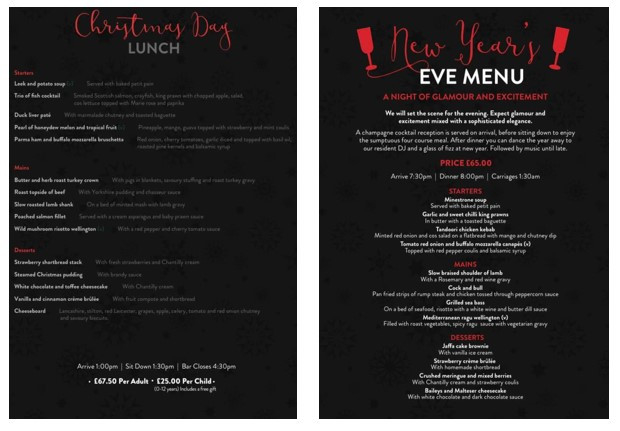 Whatever your tastes and plans for a celebration The Bolholt Country Park Hotel is the natural first choice, being the most beautiful setting in the midst of 50 acres of parkland with stunning views.
The Bolholt Country Park Hotel is of course a lovely place for a quite tete a tete with loved ones, family and friends, whatever the season and for highly personal occasions including weddings, anniversary's, birthdays to name just a few.
Weddings at the Bolholt are taken care of from start to finish, with every aspect made perfect by the professional team who will look after every detail.
Whether it is Christmas and New Year or another celebration, The Bolholt Country Park Hotel offers seasonal hotel packages so that you can extend your pleasure and relax completely. At Christmas what good is a festive stay without sherry and mince pies on arrival? Booking seasonal packages makes the experience even more memorable. whatever the occasion.
If you haven't booked in at The Bolholt yet, please act quickly to avoid disappointment - Call today!