The Bugle Quiz Night
24 St Martin's Street, Brighton
BN2 3HJ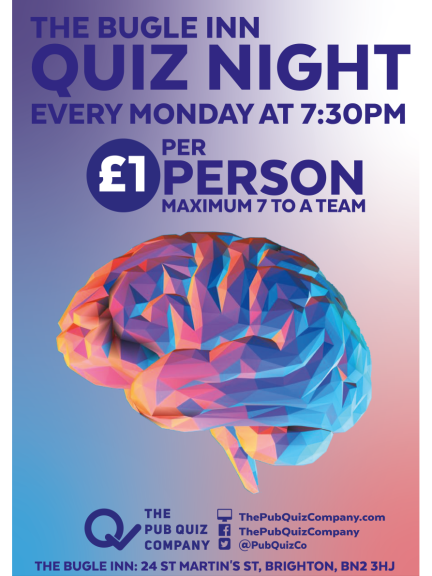 Monday nights are quiz nights at The Bugle, Brighton.
Every Monday at the Bugle Inn is their new quiz night.
The Bugle is a cosy, quaint and historical pub tucked away in the streets off Lewes Road, Brighton.
4 rounds (including a music round, obviously) and Jukebox bingo will be the order of the day.
It's £1 per person and a maximum team size of 7.
It kicks off at 7:30pm (last entry just before 8pm).
Future dates
Monday 17th August 7:00pm until 10:00pm
Monday 24th August 7:00pm until 10:00pm
Monday 31st August 7:00pm until 10:00pm
Monday 7th September 7:00pm until 10:00pm
Monday 14th September 7:00pm until 10:00pm
Monday 21st September 7:00pm until 10:00pm
Monday 28th September 7:00pm until 10:00pm
Monday 5th October 7:00pm until 10:00pm
Monday 12th October 7:00pm until 10:00pm
Monday 19th October 7:00pm until 10:00pm
Monday 26th October 7:00pm until 10:00pm
Monday 2nd November 7:00pm until 10:00pm
Monday 9th November 7:00pm until 10:00pm
Monday 16th November 7:00pm until 10:00pm
Monday 23rd November 7:00pm until 10:00pm
Monday 30th November 7:00pm until 10:00pm
Monday 7th December 7:00pm until 10:00pm
Monday 14th December 7:00pm until 10:00pm
Monday 21st December 7:00pm until 10:00pm
Monday 28th December 7:00pm until 10:00pm
Monday 4th January 7:00pm until 10:00pm
Monday 11th January 7:00pm until 10:00pm
Monday 18th January 7:00pm until 10:00pm
Monday 25th January 7:00pm until 10:00pm
Monday 1st February 7:00pm until 10:00pm
Monday 8th February 7:00pm until 10:00pm