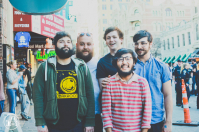 Don't miss out this American rock band at The Green Door Store!
About
Founded in 2011, this band from Missouri has already released two successful records - The Albatross in 2013 and Dealer in 2015. This year they are touring through Europe, stopping by Brighton at The Green Door Store.
Foxing's music can be best described as post-rock, emo or indie rock. 
Where
The Green Door Store
2,3,4 Trafalgar Arches
Lower Goods Yard
Underneath Brighton Station
BN1 4FQ
When
Wednesday 22 March, 19:00
---
Book your tickets here!
*thebestof cannot be held responsible for any changes, amends or cancellations of an event
Contact us: 07944 693214

visit us

Green Door Store,
2,3,4 Trafalgar Arches,
Lower Goods Yard
Brighton


follow us

This is a live stream from Twitter - not the voice of thebestof!