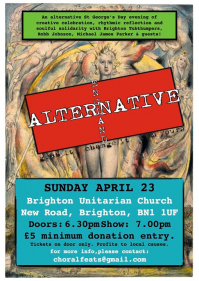 Alternative England a Musical Poetical (Re)Take on St. George's Day.
Tubthumpers, Brighton's revolutionary community choir is proud to announce their (re)take on St. George's Day. Alternative England is a celebration of that which is compassionate, eclectic, & creative about our green and pleasant land. Featuring Razia Aziz, Robb Johnson, Lou Noble, Michael James Parker, & musical arrangements and direction by Kirsty Martin.
£5 Minimum donation. Profits will be donated to local causes supported by the choir.
*thebestof cannot be held responsible for any changes, amends or cancellations of an event
Contact us:

visit us

Brighton Unitarian Church
New Road
Brighton
BN1 1UF

find us on facebook