The Fairy Tale Fair 

The Fairy Tale Fair is a whimsical themed craft and vintage fair based in Sussex.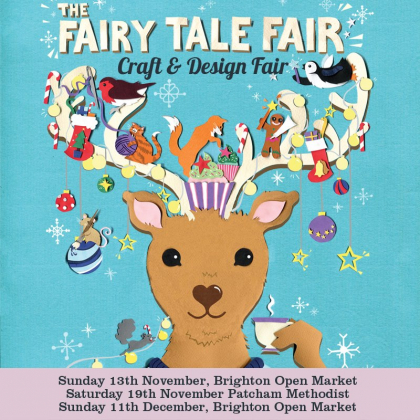 The fairs each feature local quality makers and designers, workshops to take part in, face painting, charity raffles and beautiful tearooms or home baked treats and more. Each is a great opportunity to shop local and support the makers small businesses. It also means you are buying wonderfully unique gifts and creations. Most of the fairs have free entry too, making for perfect family days out. 
So where did it all begin? It was launched in summer 2012 by Claire Montgomery in Patcham, Brighton. As a designer/ maker and regular stall holder herself Claire felt the community was lacking a family friendly fair. After some extensive thought, planning and gathering of craft contacts The Fairy Tale Fair was born.
Claire says, 
"It was very exciting to make 2015 our biggest year yet, and we hope 2016 will be just as exciting. We feel it was also important to still have our fair locally in Patcham, as we think the local community feel works so well, and it has become our well loved home.

Last Christmas and Spring we had so many wonderful applicants that we had to turn down as we simply didn't have the space, so by holding the local and central fairs we felt this was the best of both worlds and allowed more opportunities for stall holders too. 

We now have a large social following-  over 5,000 of you on Facebook and Twitter and after launching Instagram just over a year ago this has had a great response with over 1,000 followers now. 

Thank you to everyone who has visited, taken part, supported and featured us over the past three and a half years. It has helped us expand to where we are today, and we could not have done it without you!"

 
---
Buy Online crafts at Just day dreaming:
The Fairy Tale Fair also run a sister company called Just Daydreaming. www.justdaydreaming.com is a whimsical online shop featuring over 20 local and independent makers. The aim of the site is for those that can't make the fairs to still be able to browse and buy from the talented makers the fair showcases.
---

The fair has had some great press mentions and awards including: 
1st in Markets & Community Events (UK) - Business of the Year Awards 2016 
2nd in Town (Brighton and Hove) - Business of the Year Awards 2016
2nd in Town (Brighton & Hove) - The Best Of Local and Loved Awards 2015
2nd in Markets and Community Events (UK) - The Best Of Local and Loved Awards 2015
Top 3 in Best Community Event in Sussex 2015 - The Argus Community Stars Awards.
"Recommended by Parents" status on Kallikids Sussex - Summer 2015.
Top 100 Small Business in the UK - as chosen by AMEX for Small Business Saturday UK 2014. 
Other press include:
The Guardian, The Times, The Argus, Mollie Makes, Vintage Brighton, ETC Magazine, and a visit & blog from Caroline Lucas MP.