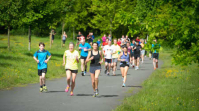 It is not a race against other runners, but a 5k timed run and it can really be whatever you want it to be, whether that's for fun or as part of a training plan.
This is a free event to get the people of Bolton together and to meet new people!
Whether your young or old, male or female, big or small you are able to join in and meet the other people of Bolton!
Taking part is easy – just register before your first ever parkrun.  Make sure you print out your barcode in order to get your time recorded.
But the best this is that you only have to do that once and you are all sorted and ready to go!
register here : 
http://www.parkrun.org.uk/register/form/
Future Dates
Saturday 13th May
9:00am until 11:00am
Saturday 20th May
9:00am until 11:00am
Saturday 27th May
9:00am until 11:00am
Saturday 3rd June
9:00am until 11:00am
Saturday 10th June
9:00am until 11:00am
Saturday 17th June
9:00am until 11:00am
Saturday 24th June
9:00am until 11:00am
Saturday 1st July
9:00am until 11:00am
Saturday 8th July
9:00am until 11:00am
Saturday 15th July
9:00am until 11:00am
Saturday 22nd July
9:00am until 11:00am
Saturday 29th July
9:00am until 11:00am
Saturday 5th August
9:00am until 11:00am
Saturday 12th August
9:00am until 11:00am
Saturday 19th August
9:00am until 11:00am
Saturday 26th August
9:00am until 11:00am
Saturday 2nd September
9:00am until 11:00am
Saturday 9th September
9:00am until 11:00am
Saturday 16th September
9:00am until 11:00am
Saturday 23rd September
9:00am until 11:00am
Saturday 30th September
9:00am until 11:00am
Saturday 7th October
9:00am until 11:00am
*thebestof cannot be held responsible for any changes, amends or cancellations of an event
Contact us:

visit us

Leverhulme Park Community Leisure Centre,
Long Lane,
Bolton,
BL2 6EB