Local care home showcases a resident's lifetime of paintings
2nd April 2019
... Comments
---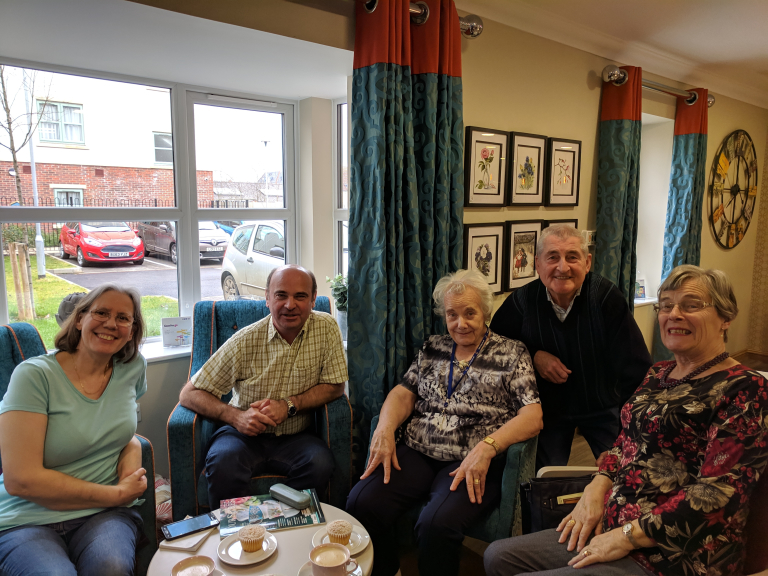 A care home in Banbury has showcased a lifetime of paintings from one of its residents in a special art exhibition weekend for family and friends.
82 year-old Audrey Olds is a resident at Care UK's Highmarket House on North Bar Place and has been a passionate painter since her school days, holding successful exhibitions across Warwickshire and securing many commissions over the years.
The exhibition was held over tea and cake in the care home's attractive and comfortable lounge and café area.
Home manager at Highmarket House, Francine Summers, said: "Residents are at the heart of everything we do here at Highmarket House and we love to go the extra mile to celebrate their passions and lives. We worked closely with Audrey's family to host this exhibition and all had a lovely weekend admiring her work, which spanned landscapes, portraits flowers and animals.
"Audrey and her family thoroughly enjoyed the exhibition, with Audrey especially proud to see everyone appreciating her lifetime work."
Highmarket House is a state-of-the-art care home which provides full-time residential, dementia, nursing and short-term respite care. The home, which features 73 ensuite bedrooms, has been designed to enable its residents to live active and fulfilled lives, while also promoting independence. The care home incorporates space for hobby and leisure activities and includes its own cinema, hairdressing salon and café.
To find out more about Highmarket House care home, call 01295 297 652 or email Marisa Ramos, customer relations manager on marisa.ramos@careuk.com
For more general information, please visit: careuk.com/highmarket-house