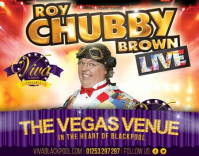 He's the UKs most outrageous comedian - telling it as it is in his rudest and most controversial show to date.
Too Rude For TV!
This larger than life giant of comedy is back in Blackpool for a series of dates throughout the year... Friday nights will never be the same! Packed with Belly Busting jokes, Chubby is Chubby in every sense of the word!
As politically incorrect as ever 'The World's Most Outrageous Comedian' is far too rude for TV, so this live performance is the only place to catch the flamboyant comedian!
Supported by a guest band each performance - come and enjoy a night with Roy Chubby Brown by the seaside right here at Viva Blackpool!
Category: Arts | Performing Arts | Comedy.
Artists / Speakers: Roy Chubby Brown.
Prices:
Standard ADULT: GBP 22.50,
Premier ADULT: GBP 24.50,
Tall Table/Bar Area ADULT: GBP 19.50.
*thebestof cannot be held responsible for any changes, amends or cancellations of an event
Contact us: 01253297297

visit us

Viva Blackpool, 3 Church Street, Blackpool, United Kingdom
FY1 1HJ