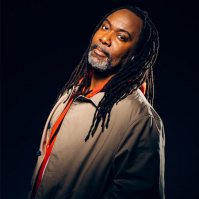 Reginald D Hunter returns to York in 2017 with his highly anticipated brand new show.
During the 15 years in which he has lived in the UK, Reginald's searingly honest material has garnered him a popular fan base that spans the generations. In the past twelve months he has appeared in a critically acclaimed tour of Ireland as well as performing across Europe. His appearances on television have included 8 Out Of 10 Cats Does Countdown and the hugely popular three-part BBC 2 series Reginald D Hunter's Songs Of The South which documented Reginald's epic road trip from North Carolina to New Orleans through 150 years of American popular song.
"REGINALD D HUNTER JOINS THE TOP RANK OF STAND-UP COMEDIANS WORKING TODAY...A COMEDIAN GOING FOR BROKE, FLYING IN THE FACE OF RECEIVED OPINION IN A WAY THAT IS SIMPLY EXHILARATING......THIS IS COMEDY OF A RARE SCOPE" ***** Times.
"STAND-UP COMEDY'S COOLEST CUSTOMER" Telegraph.
Thu 15 Jun at 8.00 pm.
Tickets from £27.15*
www.atgtickets.com/york*
0844 871 3024*
*Tickets sold via website and over phone are subject to booking fee and Transaction Charge. Calls cost 7p per minute plus service providers connection fee.
Fee free ticket purchases available with ATG Card. Visit www.atgtickets.com/theatrecard/
Category: Arts | Performing Arts | Comedy.
Artist / Speaker: Reginald D Hunter.
RSVP: https://go.evvnt.com/69632-0
Price:
Band A: GBP 27.15.
*thebestof cannot be held responsible for any changes, amends or cancellations of an event
Contact us: 01904 678714

visit us

Grand Opera House York, Cumberland Street, York, United Kingdom
YO1 9SW