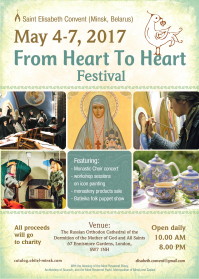 From Heart To Heart Festival by Saint Elisabeth Convent (Minsk, Belarus) From Heart To Heart Festival is coming to the British Isles. This time it will be hosted by The Cathedral of the Dormition and All Saints in London (May 4-7th) and St Peter and Paul Church in Dublin (May 11-14th). We are working very hard to make it a useful and enjoyable experience for every visitor and we look forward to seeing you there!
Saint Elisabeth Convent (Minsk, Belarus)
Organiser of From Heart To Heart Festival
The Convent, which bears the name of the Holy Martyr Grand Princess Elisabeth, was founded in the village of Novinki on the outskirts of Minsk in the Republic of Belarus in 1999. It originated from an Orthodox Sisterhood of the same name.
The main aim of our Convent and Sisterhood is to provide spiritual and social help for the sick and the suffering. The sisters carry out their ministry in many places, including the National Applied Research Centre of Mental Health and a tuberculosis centre, a boarding home for people with disabilities and a boarding home for children with learning difficulties.
The Convent has a farmstead near the village of Lysaya Gora, 19 mi from Minsk. It provides rehabilitation for those determined to get rid of drug and alcohol addiction, for the homeless and ex-prisoners. They live under the nuns' care and work on the farm, in the fields and gardens and on building sites.
*thebestof cannot be held responsible for any changes, amends or cancellations of an event
Contact us:

visit us

The Russian Orthodox Church
67 Ennismore Gardens
London
SW7 1NH
United Kingdom
SW7 1NH

find us on facebook