Buy Local campaign - supporting local businesses
1st June 2015
Author: Harry and Susan C
Comments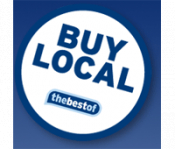 In the Aberdeen area we are fortunate to have many excellent local businesses.  Make sure that you use these businesses so that they survive and grow.  There is a saying "Use them, or lose them" which is very true.
When it comes to shopping, you will be tempted to use the big supermarkets or order on-line.  But we are asking you to stop and think about where the profits are going and how your purchase is helping the local economy.  
At The Best of Aberdeen we are proud to promote some of the best businesses in the area - and if they are not members, we want you to tell us about them and why they are among The Best.  Do they give exceptional customer service?  Do they make you feel good about buying from them or using their services? 
Leave a testimonial for a local business and you could win £100, so don't delay!  click here  to post your testimonial.  Good luck!