about us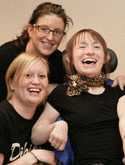 The leading learning disabilities charitable organisation in Aberdeen providing support for children and adults.
<?xml version="1.0"?>
Cornerstone's aim is 'to enable the people we support to enjoy a valued life'
Cornerstone is one of Scotland's largest charities and a leading provider of services for people with disabilities and other support needs.
Cornerstone was founded in 1980 in Aberdeen when Nick Baxter brought together a group of parents and professionals who were concerned about the lack and quality of services available to people with learning disabilities and their families.
Cornerstone provides 24 hour residential care and support at 42 sites across Aberdeen and Aberdeenshire.
After opening their first residential service in 1982, Cornerstone has grown to become a leading provider of care for children, young people and adults with disabilities and special needs and now operates a variety of services throughout Scotland.
Since its inception Cornerstone has grown to:
have a turnover in excess of £27 million
We support people with a variety of needs, including:
autism and related disorders

children with special needs
However, if Cornerstone can meet the needs of an individual, we would be happy to support them. It prides itself on being the largest Aberdeen based charitable organisation and continues to achieve its aim, 30 years on.
For more information, visit Cornerstone's website above, or email them at the address above.
Please mention thebestofaberdeen when contacting Cornerstone
Charitable Organisation - Aberdeen