CLAN (Cancer Link Aberdeen North)
about us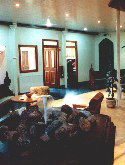 Your local cancer support charitable organisation for Aberdeen, Grampian, Orkney and Shetland.
<?xml version="1.0"?>
CLAN Cancer Support is a local, independent charitable organisation based in Aberdeen, whose main aims are to provide support, information, care and complementary therapies to anyone who has been affected by cancer, at any stage - from diagnosis onwards.  Whether you are affected personally, or as a carer, family member or close friend, our services are available to you.  Based in Aberdeen we cover all of Grampian, Orkney and Shetland.  We are funded by charitable donation.
The CLAN charity in Aberdeen believes in a holistic approach - taking care of the whole person - trying to make you feel comfortable, relaxed, supported and better able to cope when a diagnosis of cancer is given.
The CLAN charity offers:
A relaxed, welcoming and positive environment  in Aberdeen
Comfort, hope, care and support 
Help and encouragement to overcome anxieties and fears through understanding and positive thinking 
A 'listening ear' service, by trained support volunteers with experience of cancer 
Counselling service in Aberdeen
A dedicated children and families support worker
A number of different complementary therapies to help you relax, improve the quality of life, balance energies and promote healing
Information about cancer and related services  in our Aberdeen library
Benefits advice
Home and hospital visiting and telephone/e-mail  support
Group meetings and activities in and around Aberdeen
Transport to and from the Aberdeen centre
Holiday home in  Banchory  near Aberdeen
For those visiting the hospital in Aberdeen, we can provide affordable Bed & Breakfast accommodation
The Centre, based in Aberdeen, is open for drop-in Monday to Friday 10 am - 4 pm, except Thursday when it is open 10 am - 7 pm.
Funded by charitable donation
---
Charity shops at 117 Rosemount Place, Aberdeen and 11 Summer Street, Aberdeen.
Cancer Link Aberdeen & North (CLAN) is a company limited by guarantee in Scotland No 140582 and is recognised as a Charitable Organisation Ref SC 022606
---
Please mention The Best of Aberdeen when contacting CLAN (Cancer Link Aberdeen North)

Charitable Organisation - Aberdeen
---