Thorpeness Hotel & Golf Club
about us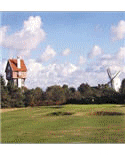 Look to Thorpeness Hotel and Golf Club near Aldeburgh for one of the finest Golf Course and Clubs in Suffolk
If the perfect round of golf is the oft sought, seldom accomplished aim of every golfer, Thorpeness Hotel & Golf Club might be the place to achieve it. (You'll certainly enjoy the very best golfing breaks there.) Even if you're more inclined to finish over par than under, Thorpeness Hotel & Golf Club near Aldeburgh will inspire you. (And their golf academy will improve your game no end!)
Look for a golf course and clubs in and around Aldeburgh and you'll find more golfing breaks, and golf courses than you can swing a golf club at. This part of Suffolk is particularly well served, boasting a golf course and clubs in Aldeburgh, Woodbridge and of course, here in Thorpeness. What sets Thorpeness Hotel & Golf Club apart is its setting, its golf academy and, above all, its design.
---
The Thorpeness Hotel & Golf Club 18 hole par 69 golf course near Aldeburgh was designed by James Baird in 1922. It takes full advantage of its heathland setting, creating a golf course that is perfectly in tune with its environment.
The golf course winds in leisurely fashion through the birch, pine and gorse; all the while treating the player to the majestic splendour of the unspoilt Suffolk countryside; all big skies and sea views. 
---
Whatever challenges the golf course throws at you, this is one golfing break that will inspire, revive and relax. The sea air and coastal views help take the edge off any missed putt, while the well stocked golf club bar and restaurant menu will provide adequate reward for a well played round! 
For the best golf courses and clubs visit the Thorpeness Hotel & Golf Club website and find out about their golfing breaks and golf academy. It doesn't matter how you play, what matters is where you play!
---
Discover more about golf at the Thorpeness Hotel & Golf Club www.suffolkcoastgolf.co.uk
or call 01728 452 176
---
Thorpeness Hotel & Golf Club - a unique golfing break destination, affording challenging golf in stunning surroundings
---
Please mention The Best of Woodbridge and Aldeburgh when contacting Thorpeness Hotel & Golf Club
The Best of Woodbridge and Aldeburgh (category - Golf Courses and Clubs)
Contact Us

Lakeside Avenue
Thorpeness
Nr Aldeburgh
Suffolk
IP16 4NH