The Brudenell 01728 452 071
about us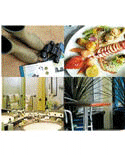 With an AA quality rating of 85% and glowing notices in the national press, The Brudenell is one of Aldeburgh's most impressive (though relaxed) hotels
It's our great pleasure to bring The Brudenell Hotel to your attention.
Regarded as one of the very best seaside hotels in the country, let alone in Aldeburgh (and visitors to Aldeburgh will know we've got a fine complement of hotels to choose from) The Brudenell Hotel is something very special.
---
The reputation of The Brudenell  Hotel is such that it was listed in both The Independent and The Daily Mail's list of top ten seaside hotels in 2004.
The hotel is situated at the southern end of Aldeburgh, and makes the most of its superb location. Accommodation is light and airy and nearly every window opens out on an idyllic view of the coast: book a short break and you'll be favoured with a coastal scene or an expansive view out over the River Alde and the Aldeburgh marshes.
---
The Brudenell Hotel is a stylish retreat for world weary travellers. Book in for a short break, ensconce yourself in the stylish environs of The Brudenell and feel yourself begin to unwind.
The beautiful coastal scenery is a tonic for tired eyes and the hotel's restaurant a pick-me-up for the senses. The two rosette restaurant boasts panoramic views of the coast, giving diners a setting that's worthy of the sumptuous food on offer. You'll be tempted by fresh, local produce; superbly served by attentive staff and complemented by the sounds of the Suffolk seaside.
---
Even in spite of the superb accommodation and the high standards in the hotel restaurant, The Brudenell Hotel remains a very inviting, child-friendly, accessible environment. Families with children are assured of a warm welcome and visitors to the Aldeburgh Festival or the August Proms will be well served with superb accommodation and restaurant dining. 
---
To discover more about The Brudenell Hotel or to make a reservation please visit our website
or call Aldeburgh 01728 452 071
---
The Brudenell Hotel – a step away from the beach
---
Please mention The Best of Aldburgh when contacting The Brudenell Hotel in Aldeburgh
The Best of Aldeburgh (category - Hotels)
Contact Us

The Parade
Aldeburgh
Suffolk
IP15 5BU