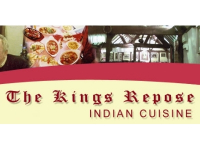 The Kings Repose - Indian Restaurant Wolverhampton
New Road
Featherstone
Wolverhampton
WV10 7NW
T:
01902 489956
about us

The King's Repose is a high quality Indian Restaurant in Wolverhampton, rated by many as "possibly the finest eatery of it's type in the UK". Using only the finest, freshest produce and ingredients, the mouth-watering dishes have been decribed as "a culinary experience of a lifetime". High recommendation indeed!
Master Chef Misbah and his team at The King's Repose Indian Restaurant in Featherstone, Wolverhampton create Indian culinary masterpieces for your delight. This is Indian cuisine created with passion and art - nothing short of excellence is acceptable. The wonderful Indian dishes are a combination of subtle flavours and tastes, exclusively created by blends of fragrant and exotic spices of India.
Every dish has its own unique flavour and aroma from the herbs and spices prepared by the Master Chef. Misbah isn't happy with the standard "off the shelf" spice mixes used in most Indian restaurants; he creates his own unique and exclusive mixtures, using his expertise to ensure the end result is exactly as he wants it to be. Every dish can be made to suit the individual preferences of the customer - whether you like your Indian food hot, spicy or mild, each dish can be delivered to your requirements.
Naturally, only the finest, freshest ingredients will do - there is no compromising on quality in the creation of the House Speciality dishes, available exclusively at The King's Repose, that move Indian dining to a higher level. The House Specialities, whilst being an authentic but delicate blend of Indian spices and ingredients, carry an English influence, and the end results show clearly how much time and effort has gone into creating these Gourmet Masterpieces.
You'll find a wide selection of Traditional Indian dishes alongside the House Specialities, including all of your favourites and the quality cuisine is matched by a carefully selected range of Wines and Champagne to accompany your meal. Unusually, there is also a tempting selection of indulgent desserts to complete your feast. Combine the unique culinary experience with the quality of the service and it's easy to understand why The King's Repose is held in such high esteem by its clients. If you haven't visited this fabulous Indian Restaurant previously, it must surely be high on your list to put that right.
The King's Repose is open:
5.30pm to midnight every day, including Bank and Public Holidays.
They also offer a special Christmas Day Lunch party, and will happily cater for any special occasions or celebrations.
The King's Repose also offer a takeaway service if required.
Please do visit The King's Repose website to see the more details about the House Specialities and the menu generally - just follow the link on the right of this page.
When you call or visit The King's Repose, please mention that you found them on 'thebestof wolverhampton'.