The Bradmore Bowling Club
about us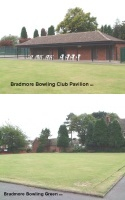 The Bradmore Bowling Club - Wolverhampton. Bowls as it should be!
<?xml version="1.0"?>
 The Bradmore Bowling Club, Wolverhampton.
A Crown Green Bowling Club affiliated to the BCGBA located at Bradmore Recreation Ground, Church Road, Wolverhampton, WV3 7EN opposite the new houses where "The Mitre" pub used to be! Free facilities, car parking, pavilion and toilets.
Come along and hone your hand/eye co-ordination skills as well as exercising the limbs! The Club is open to both ladies and gentlemen who are normally retired with no upper age limit – the oldest participant is currently 98! Beginners are welcome, amateur tuition freely available to anyone that needs it on possibly the best bowling green in town – it was fully reconditioned in winter 2009. Got no Woods (Bowls)? Then don't be afraid to ask, there are usually one or two spare pairs to borrow for a practice. Please note - flat shoes must be worn on the bowling green.
Bowling takes place every weekday afternoon from 1:45pm for sign in, draw and start from 2:00pm until about 4:00pm with a tea break around 3:00pm – it's the cheapest cup of tea and a biscuit in town! The only exception to this is every other Wednesday during the bowling season from April 1 to mid September when the green is reserved for Wolverhampton Senior Citizens League matches.
The Club play in the 5th Division of the Wolverhampton Seniors Bowls League and anyone wishing to join the Club team for this weekly Wednesday afternoon competition against other local teams, either at home or away, are more than welcome. To play in this WSBL, one has to be over 60 and a member of the British Crown Green Bowling Association – this can be arranged through the club.
Monthly Club Competitions are open to all members with cups for the winners and runners up; handicapping is on-going throughout the season.
The Bradmore Bowling Club is a non-profit making club; membership + green fees are normally less than £25:00 per year [2009]. Tea 20p per day [2009]
For more information, please contact:
Chairman: Bob Bruce 01902 650061 email rb004e3160@blueyonder.co.uk
Captain: Terry Morris 01902 893883 email brambles@toucansurf.com
If you are a club member or have used The Bradmore Bowling Club in Wolverhampton previously, 'thebestof wolverhampton' would love to hear from you. Please take a moment to leave a testimonial by following the links on this page.
When you contact The Bradmore Bowling Club - please mention that you saw them on 'thebestof wolverhampton' 
The Bradmore Bowling Club, Wolverhampton.
Contact Us

Bradmore Recreation Ground
Church Road
Wolverhampton
WV3 7EN