Chambers Bespoke Tailors
about us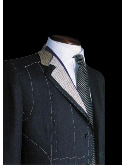 Chambers Bespoke Tailors are expert and friendly tailors for bespoke suits, shirts, repairs and alterations based in Wimbledon Village and on the second floor at Elys department store in central Wimbledon SW19, South West London. Wedding dresses alterations a specilaity!
<?xml version="1.0"?>
---
Chambers Bespoke Tailors

Reliable, professional tailors service in the Wimbledon Village and central Wimbledon area

020 8944 6161
Chambers Bespoke Tailors are the kind of tailoring business customers always look for but rarely find these days - a quality tailoring, repairs and alterations business that offers the highest standards of craftsmanship together with excellent friendly service, whatever the job.

Whether you are looking for hand made shirts, made to measure suits or bridal alterations, then Chambers Bespoke Tailors is the place to call.

Chambers Bespoke Tailors is a highly experienced local tailoring business and alteration business with a presence in Wimbledon Village and also on the 2nd floor of Ely's department store in Wimbledon Town. They've forged a great reputation to match serving the entire Wimbledon, Merton, South West London area and beyond!
We also have a tailoring and alterations service on the 2nd floor at Elys department store in the heart of Wimbledon, making it the only professional tailoring service in town. Here, you can take advantage of the full range of tailoring services we offer, as well as view a wide variety of swatches. For alterations, simply bring your clothes into either our Elys outlet or our Wimbledon Village shop and we will do the rest.

---
CHAMBERS BESPOKE TAILORS
FOR ALL YOUR REPAIRS AND ALTERATIONS

WE OFFER A FREE COLLECTION AND DELIVERY SERVICE. WE AIM TO SATISFY

020 8944 6161
---
Chambers Bespoke Tailors offers tailors repairs and alterations for all types of garments to customers exact specification, from resizing coats and jackets to the shortening of trousers, dresses and skirts.
Customers can expect free fitting from our tailors both on and off the premises as we will come to you anywhere in Wimbledon, Merton and beyond if required to get the job done to your complete satisfaction.
We also provide bespoke made to measure shirts, coats and suits. For all of these you can choose from a wide range of fabrics and styles - we will do the rest.
We take time and care for finer details, so that you can get that perfect fit and the look you are after. Our tailoring consultation service has quickly gained us a unrivalled reputation among our customers.
So, if you have any kind of tailors repairs and alterations for ladies or gents outfits, please visit us and we will be more than happy to serve you. If your evening wear needs any repairs and alterations, or you want another outfit made to measure, then come and visit our tailor for expert advice.
Based in locally in Wimbledon Village and on the 2nd floor at Elys in Wimbledon town centre, come and meet the friendly staff at Chmabers Bespoke Tailors and see how their expert advice can help you choose the right outfit for you.
---
Chambers Bespoke Tailors

Reliable, professional tailors service in the Wimbledon Village and central Wimbledon area

020 8944 6161
---
CHAMBERS BESPOKE TAILORS
Designer Alteration Repair Tailors
Wimbledon Village
&
Elys in Wimbledon
020 8944 6161
---
Please mention
The Best of Wimbledon and Merton
when calling
Chambers Bespoke Tailors

Tailors for the Wimbledon and Merton area of South West London
Contact Us

15a High Street
Wimbledon Village
London

SW19 5DX