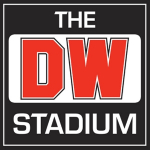 The DW Stadium
The DW Stadium
Loire Drive
Robin Park
Wigan
WN5 0UH
T:
01942 770436
about us
Here at The DW Stadium Wigan not only do we offer excellent facilities for corporate events and meetings but, we also offer a range of packages to suit any occasion from weddings to birthday celebrations. Whatever it is your looking for, look no further than the DW Stadium Wigan to cater for your function, wedding reception, wedding civil partnership ceremony or any other social or business event.
Welcome to The DW Stadium in Wigan
The perfect Wigan venue for conferencing, party nights, exhibitions and wedding receptions or wedding civil partnership ceremonies.
Wigan Conferences and Events
Here at the DW Stadium Wigan we hold all types of events such as business events, corporate seminars, press conferences or private functions. We have ample room for these to all take place on the same day - all under the one roof!
Whatever the needs of your business, the facilities on offer at The DW Stadium Wigan are second to none, and our range of presentation and audio-visual equipment is of the highest quality.
Within the Wigan complex we offer a complete range of business conference solutions, so no matter what type of event you are planning, you can be sure that the DW Stadium Wigan, provides an option to suit your needs.
With a choice of packages designed to make planning and holding your event simple and straightforward, or we can help you plan every detail of your event - we can offer as much or as little help as you need.
DW Stadium Wigan Function Suites
Club Lounge and Coors Lounge
Located on level 3 the West Stand DW Stadium Wigan, this suite has superb views of the pitch.
The club Lounge is the ideal conference or private function venue for any event in Wigan, offering flexible floor space, a private bar, air-conditioning and plenty of natural daylight.
Directors Guest Lounge
Found on level three in the West Stand DW Stadium Wigan, next door to Executive Suite 3, the Directors' Guest Lounge has excellent pitch views. An ideal venue for training courses, private dining, board meetings and syndicate work.
DW Sports Fitness Lounge
Situated in the South Stand of the DW Stadium Wigan, the DWSF Lounge is a multi purpose venue which is suitable for a large conference, product launch or private dining. It's ground location makes it convenient for exhibiting large products such as cars or machinery.
It can accommodate up to 500 delegates theatre style or 400 people for a sit down dinner.
This suite has its own reception, two bars, a static stage and is a perfect facility for both private wedding/civil partnership receptions in Wigan, party nights, charity events or any corporate function.
Executive Suites
All four Executive Suites in Wigan enjoy panoramic views of the playing surface from level 3 of the West Stand.
Light, airy and spacious with natural daylight and air-conditioning. Suited to hold meetings, interviews, private dining and syndicate/workshops for up to 12 people.
Players Lounge
With it's own private external entrance and private reception with cloakroom, this modern room boasts dark wooden furniture and leather look chairs to make this the perfect area for any type of event, Wigan training courses, Wigan based seminars, or business receptions or meeting.
The Marquee
On ground level in the North Stand,Wigan. The Marquee is truly a unique function suite. With a private reception area, draped ceiling, carpeted and including a built in stage, plus a portable stage with a large dance floor and bars.
With vehicle access, three phase power, stage lighting and a PA system. The Marquee is perfect for exhibitions, fashion shows and all types of large scale corporate presentations.
The Marquee also hosts our famous Wigan Party Nights. Entertainment with fine dining and dancing to the music of our resident DJ.
Wish FM Lounge
In the heart of the West Stand on level two of Wigan's DW Stadium , this function room can be partitioned into 3 separate rooms, ideal for workshop/breakout rooms and also offering private refreshment and reception areas.
The wish FM Lounge has 3 bars and is perfect for private lunches and buffet receptions. This lounge can accommodate up to 280 people.
Weddings and Civil partnerships
Here at the DW Stadium Wigan we have a licence for couples to get married and for civil partnerships to take place! Why not get married to the backdrop of a pitch view.
We take great pride in providing a first class wedding and civil partnership service with a Wedding Co-ordinator who will be on hand to ensure your special day is a truly memorable occasion.
We will help you plan your perfect special day!
Private Celebrations
We cater for birthdays, christenings, anniversaries - any private celebration can be held at the DW Stadium Wigan. We aim to ensure that your guests leave happy and remember your event for years to come.
Use our Event Planner to assist in ensuring every small detail is catered for. They will help you through the process of organising your party.
Whatever you event or occasion in Wigan. Call us at The DW Stadium Wigan for your Wigan conference, Wigan wedding reception, civil ceremony or that special Wigan party night out.
Contacts
Wigan Warriors hospitality
-Sam Cross on 01942 770436
-Geoff Warburton on 01942 770474
Wigan Athletic Hospitality
- Antony Clark or Jon McAlister on 01942 770400