about us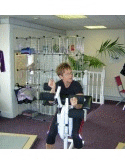 Take the first steps to effective weight loss at Curves in Bathgate, West Lothian.
Say Goodbye to Dieting and Hello to Weight Loss
with Curves in Bathgate, West Lothian
If you've tried in the past to lose weight with faddy diets or sheer will power, then you'll know how difficult it can be to succeed on your own. Weight management isn't always top of the agenda when there is a plate of cakes on offer! That's where Curves in Bathgate can help. We are a ladies gym designed exclusively for women. Offering a new approach to weight loss, we'll help you lose weight and keep it off. Diets generally leave you feeling hungry and slow your metabolism. At Curves ladies gym we'll help you increase your metabolism to burn off calories and introduce meal plans that you can stick to in order to achieve effective weight loss.
---
GET ALL YOUR CURVES IN THE RIGHT PLACE!
LOSE WEIGHT AT A LADIES GYM
Tel: WEST LOTHIAN 01506 651000
---

Curves ladies gym was established in the USA in 1992 and has become successful all over the world, currently boasting 4 million members. Now you too can have fun while you lose weight. At Curves in Bathgate, West Lothian, we understand that women lead busy lives juggling work and families. We also know that to manage your life successfully you have to take your health and weight management seriously. That's why we offer a unique concept in terms of weight lose.  At our ladies gym we offer a total body workout in only 30 minutes and combined with a sensible diet, you'll be amazed at the results you can achieve. Strength training is the key to weight lose, as your body uses stored fat for fuel, giving you the permanent weight lose results you desire.
---

LEARN SENSIBLE WEIGHT MANAGEMENT
 AT CURVES IN WEST LOTHIAN
 TEL 01506 651000 FOR MORE INFORMATION
---
Curves in Bathgate is run by Isobel Gardner and along with her experienced staff she will welcome you into the club and arrange a FREE Figure Analysis and Tour. Isobel underwent intensive training in the USA before she opened the ladies gym and she and her staff keep up to date on weight loss training with regular video and CD presentations from Curves HQ and training workshops in the UK, so that you can be guaranteed you are getting the most up to date guidance on fitness and weight management.
Getting the support of other women and expert advice from a trained team in weight management will help you put an end to dieting and achieve the weight lose you didn't think was possible. Discover a new confident you at our ladies gym at Curves in Bathgate, West Lothian. The advantages of joining the club are:-
Ladies Gym

Nutritional Information

Total Body Workout in 30 Minutes

Support of other Women

Experienced Weight Management Instructors

Welcoming Atmosphere
If you want to lose weight and you need a little extra help, then contact Curves today and get on the road to discovering a whole new you!
---
Opening Hours
Monday        7.30  to  1.30        3.30 to 8.00
Tuesday       9.00 to   1.30        3.30 to 8.00
Wednesday  7.30 to 1.30           3.30 to 8.00
Thursday      9.00 to 1.30            3.30 to 8.00
Friday          7.30 to 1.30            3.30 to 8.00
and Saturday 10.00 to 12.00
---
 
Isobel Gardner
Curves
28A Academy Street
Bathgate
West Lothian
EH48 1DX
Tel: 01506 651000
Fax: 01506 651025
---
Please mention The Best of West Lothian when contacting Curves

Contact Us


28A Academy Street
Bathgate
West Lothian
EH48 1DX