about us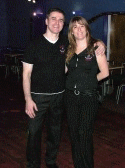 For the best of Dance Schools and Classes based in West Lothian, contact the Beatfeet Dance Company, Uphall, Broxburn.
<?xml version="1.0"?>
Dance Schools & Classes in West Lothian
Get to the Beat with Beatfeet Dance Company, Uphall near Broxburn!
If you thought all dance classes were the same, then prepare to be surprised when you contact Beatfeet, the dance school in West Lothian. We teach exciting adult dance classes in LA Style Salsa and LeRoc Disco Jive.
Dancing is a superb way to improve your fitness and at our fun and friendly dance classes, you are sure to develop a passion for dance.
If you are 16 years plus, then you can join us at Beatfeet dance school- and you don't need a partner to enroll. If you've never danced before, you can sign up to our beginners dance class, or if you have a little experience behind you, we also offer intermediate dance classes.
---
Beatfeet are Jules Pipskyj and Lianne Pauley, who have been dancing together for 18 months.
Jules is an award winning dancer with a long history of dance experience. He was the South Scottish Disco Champion in 1983 and appeared on C4's Malibu World Disco Championships. For the last decade he has been teaching jive and salsa dance classes.

Lianne is a qualified fitness professional and has regularly taught a range of different fitness classes over the last 6 years.
Both Lianne and Jules are qualified dance school teachers with the UKA. They often do displays and competed in the UK Open Jive Championship in Blackpool in 2006.
---
JOIN US AT BEATFEET DANCE SCHOOL, BASED IN UPHALL, BROXBURN AND LEARN TO DANCE WITH THE PROFESSIONALS
TEL 07737927463 FOR MORE INFORMATION
If you're looking for dance schools and classes with an emphasis on fun, then learn to salsa and jive with style at Beatfeet.
Beatfeet Dance Company currently have the following classes in West Lothian:
Adult Salsa & Modern Jive Dance Classes
at Middleton Hall Bowling Club
Stankards Road, Uphall, near Broxburn
Thursday's (starts 25th June)
Beginners Salsa 7.30-8.30pm
Improvers Salsa 8.30-9.30pm
Freestyle 9.30-10.30pm

Course dates for the rest of the year will be as follows;
Thursday 17th September 2009
Thursday 29th October 2009
Tuesday's
Beginners Modern Jive 7.30-8.30pm
Improvers Modern Jive 8.30-9.30pm
Freestyle 9.30-10.30pm

All classes are 6 Week Courses, £30 per person, all welcome - singles & couples
---
Dance Schools & Classes in West Lothian
Set your feet to the beat at Beatfeet Dance Company

Beatfeet Dance Company
76 Carledubs Avenue
Uphall, Broxburn
West Lothian
EH52 6TE
Tel: 07737927463
---

Please mention The Best of West Lothian when you contact Beatfeet Dance Company, Uphall, Broxburn
Contact Us


76 Carledubs Avenue
Uphall
West Lothian
EH52 6TE