Terranova Restaurant
(

13

reviews)
about us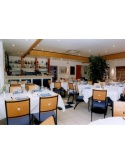 Terranova Italian Restaurant in Welwyn Garden City.
<?xml version="1.0"?>
TERRANOVA RESTAURANT
Italian Restaurant
Welwyn Garden City
TEL. 01707 333 223
---
It has often been said that each of the Italian Lakes holds treasure to discover for everyone. The same can be said, for this Italian Restaurant's beautiful lakeside setting in Welwyn Garden City.
The travel brochures boast that once you have visited the area you will be lured back again and again. This also applies to this Italian Restaurant's fine Italian Cuisine and wines.
---
 Whilst not quite a Mediterranean setting, the fantastic backdrop for fine Italian Dining will be hard to surpass within many miles of Welwyn Garden City.
---
 A warm and friendly greeting awaits you from the moment you enter this piece of Little Italy. Once settled in to the extremely laid back and relaxed atmosphere you will realise what a treat lies in store. As the aroma arouses your senses whilst perusing the extensive menu your mouth will begin to salivate at the treasure of Italian Cuisine within.
---
Some of the Italian Restaurant's favourites with which you will no doubt be familiar include:
Minestrone All' Astigiana
Insalata Di Frutti Di Mare
Melezane Alla Siciliana
Lasagne, Tortelloni, Tagliatelle, Spaghetti
Scaloppe Di Vitello Parmigiana
Suprema Di Pollo Cacciatore
Sogliola Alla Griglia ( Grilled Dover Sole )
Dolcina Della Casa
Cappuccino or Aperitif
---
Terranova Italian Restaurant in Welwyn Garden City looks forward to welcoming you. Whatever the occasion or celebration you will be thrilled at the selection of Italian Cuisine and Fine Wines available.
---
The only questions you will ask are:
" Why haven't we been here before? "
" Why has it taken us so long to find this fine Italian Restaurant ? "
---
READY TO BOOK PLEASE CALL: 01707 333 223
---
Please mention you found this information about Terranova Italian Restaurant at The Best of Welwyn Garden City
Contact Us

Stanborough Park
Stanborough Road
Welwyn Garden City
Herts.
AL8 6DF

thebestof awards