Hakalok Restaurant
about us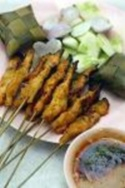 Visit Hakalok Malaysian Restaurant in Welwyn Garden City for food bursting with intense flavour.
Hakalok
Restaurant - Malaysian
Welwyn Garden City
Tel. 01707 392388
---
The Malaysian food served at Hakalok is a combination of the best Chinese, Thai, Malay and Indian dishes. The restaurant has drawn upon the country's diverse cultural influences when constructing it's menu.
---
Malaysian food uses an abundance of wonderfully fragrant herbs and spices. This traditional Malaysian Restaurant based in Welwyn Garden City uses everything traditionally associated with the very special Malaysian cuisine such as; Lemongrass, Ginger, Shallots, Coriander, Fennel etc.
Why not try some of these Malaysian dishes:
MALAYSIAN CHICKEN or BEEF SATAY

 

KUNG PO BEEF, CHICKEN or SQUID MALAYSIAN STYLE ( stir fried with sun dried chilli,onion & pepper with cashew nuts)

 

CHILLI CHICKEN MALAYSIAN STYLE

 

SAMBAL CHICKEN or KING PRAWNS (stir fried with tomato in authentic Malaysian sambal sauce made with chilli and shrimps)

 

MALAYSIAN CHICKEN or VEGETABLE CURRY

 

BEEF RENDANG CURRY (galangal and coconut based sauce)

 

NASI GORENG (Malay fried rice with chicken & shrimp, garnished with spring onions and beansprouts)

 

ROTI CANAI (Malaysian pan fried bread)
---
PLEASE ASK ABOUT THE GREAT SET MENU'S ALSO AVAILABLE
---
Hakalok is proud to bring the authentic taste of healthy Malaysian cuisine using the eclectic mix of fresh exotic ingredients to the residents of Welwyn Garden City. This Malaysian Restaurant's food is low-fat grilled or steam pressure cooked to retain as much natural goodness as possible.
---
TRUST US - IT'S AN OPEN KITCHEN !
---
You will love the true flavours of the Orient at this superb Malaysian Restaurant.
---
When booking a table please mention you found this information about their Restaurant - Malaysian at The Best of Welwyn Garden City...............Thank you.
Contact Us

7 Shoplands
Welwyn Garden City
Herts
AL8 7RH