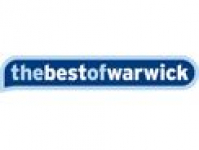 thebestof Warwick Networking Evening
The Round House
Marston Road
Greatworth
Banbury
OX17 2EA
T:
01926 350100
M:
07403 166029
about us

A relaxed and friendly take on Business Networking for the best businesses in the Warwick area, taking place every couple of months.
An Evening with thebestof Warwick & thebestof Leamington Spa
a local business evening for the best local businesses
Run by thebestof warwick & thebestof Leamington Spa who champion the best businesses and services in the Warwick & Leamington Spa areas.

An Evening with thebestof Warwick & Leamington Spa is an event that appeals to all types of businesses and professionals, for being informal, friendly and effective. Unlike many networking events, An Evening with thebestof warwick & Leamington Spa is a relaxed, semi social evening where businesses can come together to make new contacts and discover new business opportunities.
There is certainly no pressure to present, no long speeches & best of all, no early mornings! Don't miss the excellent opportunity to:
Meet other local businesses, discuss ideas & exchange business cards

Informal semi social evening with no long speeches or pressure to present

Fun ice breaker game & free prize draw

Make new contacts & possible partnerships.

Support from other local businesses

Enjoy refreshments & buffet in a relaxed setting

Catch up with the

best

of

warwick

team.
The next Evening Event with thebestofwarwick & Leamington Spa is on
Monday 18th April 2012
5 - 9pm
at
Warwick Racecourse
----
Come and enjoy an evenings Race meeting at Warwick Racecourse in one of the
Executive Suites overlooking the track and enjoy a Glass of Fizz, Buffet and full evening Race entertainment
as part of our Networking activities for our member businesses.
This is a great opportunity to meet local business owners and their corporate clients at a relaxed and friendly event at the discounted price of only £35 + VAT per attendee.
Numbers are limited by the size of the suite to a max of 25, so request your tickets early to avoid disappointment!
--------------
Thebestofwarwick and thebestofleamington-spa, together with Warwick Racecourse, are hosting thebestofwarwick & thebestofLeamington Spa's "June Networking event" at their evening Race Meeting on Monday 18th June in one of Warwick Racecourse's Exclusive Hospitality Suites.
Itinerary:
Gates open at 4:50pm and the evening will start with a welcoming glass of "Fizz" at 5:00pm with the opportunity to Network with other guests and business members during the late afternoon and evening.

There will be the opportunity to take a tour of the Racecourse's facilities.

A Buffet of a Seafood / Meat Platter followed by Dessert will be served at around 6:00pm

Racing commences at 6:50pm with the final race at 8:55pm and we are hoping to have one of the day's jockeys drop in to see us.

There will be the opportunity to visit the Paddock during the afternoon to take a closer look at the horses.
This is a very special opportunity to network with other business members from Warwick and Leamington Spa whilst enjoying the hospitality of Warwick Racecourse and an evening's racing and follows on from our successful event in 2011 where we had a full box of members and their invited guests. We had lots of great feedback from those who attended and it was a really fun event for all concerned!
Last year a number of business members requested that they bring some of their chosen business clients, in order to offer a Corporate Hospitality event, and we will offer the same opportunity again this year.
This event is open to

BUSINESS MEMBERS (and partners) ONLY

of the

bes

tof

Warwick

& the

best

of

Leamington Spa

PLUS

upto 4 additional invited guests, to enable you to offer corporate hospitality and entertainment to your chosen clients.

We have again agreed a significantly discounted price for this hospitality package for our attendees and the price to attend is £35 + VAT per person (max 6 people per business).

The package includes:-

Use of the Private Hospitality Box

Race Card

Glass of Fizz on arrival

Seafood and Meat Platters plus choice of Chef's dessert

Cash Bar

Tickets will be allocated on a first come, first served basis (max attendees 25 - limited by size of hospitality suite)

HOWEVER

I need to confirm the booking of the Hospitality Suite by Friday (1st June) as I need a minimum of 15 people to hold the booking for the suite.

Register TODAY

for this exciting event by dropping me an e-mail and I will send an invoice for the number of tickets request, for payment by return by bank giro credit or cheque.
This event was over subscribed last year and, as there are a limited number of places, PLEASE RESPOND TO ME A.S.A.P. with the number of tickets you require, so I can confirm our booking of the suite with Lee at Warwick Racecourse and reserve your places.
I have been involved with similar events in 2010 and 2011, organised by Lee Moulson and Warwick Raceourse, and had a fantastic afternoon enjoying the lovely food, meeting lots of local business people, watching the racing from a great vantage point, visiting the Paddock and even getting the opportunity to present the Cup to one of the Winning owners. Last year we even had our own Race "ThebestofWarwick Stakes" on the card. This really is an event not to be missed!
Sponsor our Banner at the Racecourse & have your Business feature on the Trackside Hoarding:
If you would like to have your Business Logo & contact details appear on our Trackside Hoarding (on the last 6 ft of the Banner on the RHS - See above), this slot is available for rent on a bi-monthly basis. Contact me for pricing.

Book your tickets for this Special Event now
e-mail warwick@thebestof.co.uk or call 01926 350100 / 07403 166029
------------------------------
The price for our regular meetings is only £10 for thebestofwarwick business members

£15 for non members (prices include VAT, drinks, canapes & prize draw entry)
---
thebestof warwick & Leamington Spa event takes place every two months, allowing local businesses to grow their business in a way that is unlike traditional business networking. This is a great opportunity to meet other local businesses, establish partnerships and find more business.
* * *
Venue and date of thebestof warwick & Leamington Spa events will be announced here. But to be sure you don't miss out email warwick@thebestof.co.uk and we will add you to our networking event invitation list.
* * *

thebestof warwick offers much more than Business Support & Networking events. Read more about how thebestof warwick help effectively promote the very best local businesses under Marketing, Warwick.
---
An Evening With thebestof Warwick is listed in Business Support and Networking, Warwick