Tenant Finder - Letting Agents - Richmond
(

7

reviews)
about us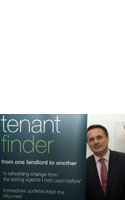 Tenant Finder is a letting consultancy run by a local landlord,serving other landlords in the Richmond and Twickenham area.[Flat Management - Property and Estate Management - Rental Property - Richmond]
Established in 2006 by local landlord David McGeachie, Twickenham-based letting agency Tenant Finder prides itself on providing a quality service for landlords in Richmond upon Thames whilst not charging the annual repeat fees for tenancy renewals, often associated with other agencies.
Another key selling point is that landlords have free use of Tenant Finder's detailed 18-page Tenancy Agreement. And we don't claw that money back with higher basic fees either - we charge 9% of the first year's rent to find tenants. In tenancy management, we add no handling fees to invoices for work needing done at properties, saving clients money and giving them extra peace of mind. Our written inventories come with a full DVD 'mini-movie' of every corner of the property with full detailed commentary and all for the same cost as a normal paper- only inventory.
Also, we attract tenants by charging them lower fees than any other agent we know of.
Originally operating online, Tenant Finder opened their first high street premises in early 2009 in Richmond Road, St Margarets, Twickenham.
As a local letting agent serving the Richmond Borough, Tenant Finder covers areas including: Twickenham, Strawberry Hill, Fulwell, St Margarets, Teddington, Hampton Wick, Hampton Hill, Hampton, Whitton, Mortlake, Kew, Isleworth, North Sheen, Ham, Petersham and Brentford.
---

Tenant Finder
The new-fashioned lettings agency
020 8891 2929
07976 334497
---

Services
Finding Tenants
Tenant Finder sources professional people to take up Short Hold Tenancies in residential properties, managing the whole process from marketing and viewings through to occupancy, with no extra charge for Tenancy Agreements. We also attract tenants by charging them lower fees than any other agent we know of.
For inventories, we provide a full written document PLUS a DVD of a walk-through of the whole property with detailed commentary, all for the same price normally charged for a standard, paper-only inventory.
Tenancy Management
Tenant Finder also provides a full property / tenancy management service. Our unique selling point here is that we add no handling fees to invoices for work done at a property - therefore unlike other agencies we do not have a lucrative income stream from issues occurring at properties. We believe this gives our clients greater peace of mind.

Reasons why landlords enjoy using Tenant Finder:


Tenant Finder don't charge any annual repeat fees when tenants stay on for further Terms and never have, since the day they started in 2006, saving clients thousands of pounds.
Fees are a one-off 9% of annual rent achieved, however long the tenant stays, and this includes the use of their detailed 18-page Tenancy Agreement.
With tenancy management, no handling fees are added to invoices for necessary work, giving landlords full peace of mind as they know there is no income benefit for Tenant Finder us in problems occurring at their property.
Tenant Finder work outside normal High Street hours and therefore regularly let properties when other agencies, sometimes those with the same with the same property listed, are closed e.g. Sundays, late evenings, Saturday afternoons. They work according to when prospective tenants want to see the property.
Tenant Finder, at four years old, is still a relatively new business so have no bad old habits learned over the years and are totally independent, which enables them to offer uniquely beneficial deals to landlords.
David McGeachie is a well known face in the community, producing, sponsoring and hosting charity concerts, Twickenham Festival and other events for many years. Proud member of St Margarets Traders Association, former Chair of a local business networking group and former committee member of Richmond Chamber of Commerce, he has lived and worked in Richmond and Twickenham for over twenty years and is a local landlord like you.
For more information on Tenant Finder, letting agents and property management in the borough of Richmond, please contact:
---
David McGeachie, Managing Director
191 Richmond Road
St Margarets
Twickenham
TW1 2NJ
020 8891 2929
---
Mention The Best of Richmond
when contacting Tenant Finder
property and estate management,
flat management, letting agents
and rental property for the Richmond
and Twickenham area
© thebestofrichmond
Letting Agents - Richmond - Strawberry Hill - Fulwell - St Margarets - Teddington - Hampton Wick - Whitton - Mortlake - Barnes - Kew - Hampton - Hampton Hill - North Sheen - East Sheen - Ham - Petersham.
Contact Us

191 Richmond Road
St Margarets
Twickenham
Middlesex
TW1 2NJ

find us here