Bubbles
(

12

reviews)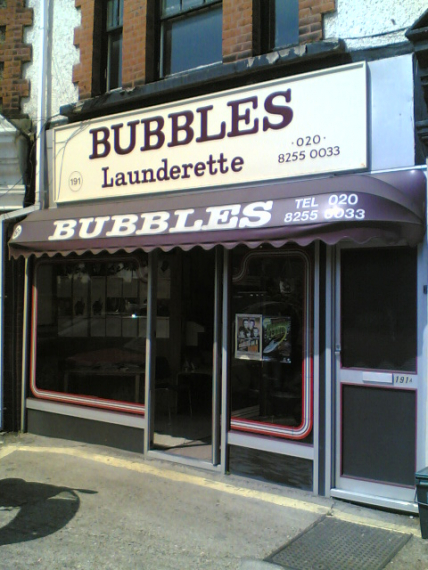 about us
Bubbles - One of Richmond borough'€™s most bright and airy launderettes located in Teddington.
Bubbles Launderette is situated in Teddington and offers both a self-serve and drop off laundry service in the Richmond Borough area. Bubbles has one of the Borough's longest opening hours for launderettes; it is open from 8am to 8pm, seven days a week for customers to do their washing.
It also has three different sized machines (7kg, 10kg and 18kg) to accommodate a wide variety of washing loads, as well as, bulky items such as large duvets and blankets. There are five 15kg tumble dryers on the premises which provide very effective drying for your laundry.
Service washes are available between 8.00am and 6.00pm from Monday to Friday. These are very popular, with the most frequent service wash items being bed linen and towels as they can be done quickly and efficiently in the over-size washers. Bubbles offers free a local collection and delivery service for those who are too busy to get to the launderette themselves.
Other services at the launderette in Teddington are:
Oversize machines to accommodate duvets, pillows, sleeping bags and other items too large to wash in domestic machines

Commercial contracts for items such as bed linen and table linen

Wash and press shirt service

Dry cleaning - 10% off all items, every day

Professional alterations
Bubbles Launderette in Teddington is superior to the other launderettes in the Richmond upon Thames area because it employs the Procter and Gamble Auto Dose System used in care homes across England. Machines can be pre-programmed to deal with a variety of laundry such as team sports kits, restaurant uniforms, tablecloths and bed linen. The programmes will also deal effectively with all biological hazards.
A wash in a small machine (7kg) costs £4.00, a large machine (10kg) £5.00 and an oversize (18kg) £7.00. Twelve minutes drying will cost £1.00. Service washes begin at £9.00 for a small wash and the wash, press and hang shirt service costs £1.50 per shirt.
Owner Mark Yelle is on the premises of his Teddington launderette every weekday to offer advice or assistance, if needed. Bubbles has recently been redecorated and Mark prides himself on the bright and airy environment at the launderette. There is a spacious seating area with a wide range of reading material and free parking bays close to the launderette. Washing powder and fabric conditioner is also available.
Visit Bubbles Launderette in Teddington; a fresh, modern, efficient launderette that will deal with all your laundry needs in Richmond upon Thames.
---
Bubbles Launderette
191 Waldegrave Road
Teddington
Middlesex
TW11 8LX
020 8616 0552
---
Please mention thebestofrichmond
when contacting Bubbles
Launderette in Teddington
Richmond upon Thames
© thebestofrichmond
Contact Us

191 Waldegrave Road
Teddington
Middlesex
TW11 8LX

find us here