Essential Clinical Thermography
(

10

reviews)
about us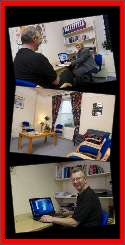 Essential Clinical Thermography - Thermal Imaging Isle of Man
<?xml version="1.0"?>
Digital Thermal Imaging from Essential Clinical Thermography based in Ramsey on the Isle of Man
RESULTS IN 3 TO 4 DAYS!
Thermal Imaging is a totally non - invasive clinical imaging procedure for detecting and monitoring a number of diseases and physical injuries, showing the thermal abnormalities in the body available to Isle of Man residents and visitors at Essential Clinical Thermography.
FIlling the gap in clinical diagnosis.....
X- Ray, C.T. Ultrasound and M.R.I. etc. are all tests of `anatomy` that measure the structures of your body... DITI is unique in it's capability to show physiological change and metabolic processes and are now available on the Isle of Man at Essential Clinical Thermography.
.
Thermal Imaging is an aid for diagnosis and prognosis, as well as monitoring therapy progress, for conditions and injuries, including:
· Breast Problems
· Back Injuries
· Arthritis
· Headache
· Nerve Damage
· Unexplained pain
· Fibromyalgia
· RDS ( CRPS)
· Dental and TMJ
· Artery Inflammation
· Vascular Disease
· Digestive Disorders
· Whiplash
· Stroke Screening
· Referred pain Syndrome
· Skin Cancer
· Inflammatory Pain
· Disc Disease
· Carpal Tunnel Syndrome
· Breast Disease
For more details contact Alison on 07624 482953 - address is :- 3, Auckland Terrace, Parliament Street, IM8 1AF Ramsey, Isle Of Man
Please mention that you found Essential Clinical Thermography featured under thermal imaging on The Best of The Isle of Man
Contact Us

3 Auckland Terrace
Parliament Street
Ramsey
Isle Of Man

IM8 1AF