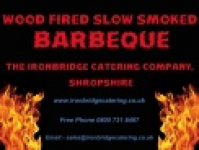 The Ironbridge Catering Company
Doseley
Telford
TF4 3BH
T:
01952 427 470
about us

The Ironbridge Catering Company provides professional catering services for all manner of events and celebrations. They have a fantastic BBQ / Hog Roast and a wide selection of buffet menu's suitable for Weddings, Corporate events and parties. Based in Ironbridge near to Telford, they can deliver pretty much anwhere in the UK and you are assured of top quality food and service.
The Ironbridge Catering Company is a Telford based Catering, BBQ and Hog Roast business delivering professional catering services for all types of events, parties & celebrations, including Weddings and Corporate events. With over 30 years of combined experience, the people behind The Ironbridge Catering Company really understand how to prepare and tailor the food to best suit both the client and the venue. What's more, you'll get locally sourced foods prepared to mouth-watering perfection, delivered on time and all at an affordable price.
The team at The Ironbridge Catering Company are fully trained in Food Hygiene and are members of The Nationwide Caterers Association, The British Barbeque Association and The Institute of Hospitality. All food is freshly prepared every day using only premium high quality ingredients by fully trained staff, in clean and hygienic surroundings.
When you use The Ironbridge Catering Company you can be assured that:
All food is routinely delivered in refrigerated vehicles

Most dietary requirements including Vegan can be catered for

Vegetarian food is their specialty and is prepared separately from meat sources

They can cater for any number of people

Free Samples can be arranged for new business customers

Tables / Chairs / Crockery / Glasses can all be sourced for you

Delivery is free (minimum order of 5-10 people)
BBQ & Hog Roast!
Like nothing you will have seen before - this is a GIANT authentic American 'Iron Horse' BBQ Smoker and is one of the largest portable BBQ's operating in the UK. It's just the ultimate in BBQ's! But not only is it enormous, it cooks to perfection and allows the food offer to be tailored exactly to the client and the venue. There's everyone's favourite - the traditional 'Hog Roast' (the Smoker can accommodate 2 whole pigs!), but you can have Sticky BBQ Ribs, Smoked Chicken or Turkey, or even a quarter of Ox - the list of meats and cuts is almost endless and can be adapted to suit time and budgets available. No more tired and burned (or still raw) sausages and burgers. The food simply goes into the smoker for between 3-12 hours and hey presto! - it's perfectly cooked whilst you've been enjoying yourself. The meat is cooked slowly, on a low heat for extra moisture and flavour.
This BBQ Smoker is just perfect for your Wedding celebration or perhaps a special birthday party and will amaze and delight your guests.
You can hire this Giant Smoker with or without a dedicated Chef and Roasting Crew - you just need a suitable and safe space for a 6m x 3m Gazebo (just in case the British weather plays up) and easy access (for the Smoker and refrigerated truck). Then you're away. Just imagine how impressed friends and family will be when they see this and taste the results! If you hire the Smoker and Chef (and Roasting Crew), they'll make sure that they are set up and cooking for your chosen service time, so everything is geared around you.
Meats can be provided by The Ironbridge Catering Company using local free range farms - for example all Pork is sourced from Buttercross Farm Foods near Market Drayton.
And to complete the service, The Ironbridge Catering Company provide bread rolls and sauces / dips and accompanying salads if required. Free plates & napkins come as standard and they'll even provide service tables if you need them. And, best of all, they will clear away afterwards - how good is that?
Buffet Catering Services
The Ironbridge Catering Company provide sumptious buffets for any type of event or celebration and have a dedicated professional buffet delivery service. Pretty much any situation can be catered for from Weddings to Corporate Events & Meetings to parties and celebrations. There's even a special themed menu for Children's Parties. The same attention to detail and hygiene is applied to all catering services so you can be assured of top quality, great service and a huge choice of different food.
For more details, you just need to contact The Ironbridge Catering Company who will be delighted to discuss your specific requirements - call them on
0800 731 8497
or
07980 148 268
or drop them an e-mail (top right of the page).
So, for all of your catering needs including BBQ's, Hog Roasts, Wedding & Corporate catering, events, celebrations and parties - just call in the experts at The Ironbridge Catering Company, sit back, and leave the rest to them.