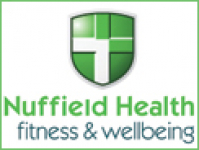 Nuffield Health Fitness and Wellbeing
Telford Forge Retail Park
Telford
TF3 4AG
T:
01952 293444
about us

The Nuffield Health Fitness and Wellbeing Centre in Telford is highly recommended by local people for excellent health and fitness facilities, including a fully equipped gym and swimming pool. Much more than just a Health and Fitness club, the team at Nuffield Health are absolutely focused on helping you to improve your overall health, fitness and wellbeing.
The Nuffield Health Fitness & Wellbeing Centre in Telford provides a truly innovative approach to your personal health, fitness and wellbeing. If you have signed up previously to a traditional health & fitness club and been disappointed with the facilities and services available, then you should take a look at Nuffield in Telford. Their aim is to help you to improve your long term wellbeing, through improved fitness and better control of your health, achieved through a combination of top quality, modern fitness facilities; health advice and services, and on-site advice and expertise through a team of highly trained Fitness & Wellbeing Advisors.
Nuffield Health Fitness & Wellbeing Centres view health differently. For a start, they provide a comprehensive range of services not normally found in a traditional Gym and more importantly, they put you - their customer at the centre of everything they do. You will of course find all of the latest gym and fitness equipment and a swimming pool, but as well as these, Nuffield offer on-site assessments; regular classes; personal training programmes; professionally trained health & wellbeing advisors; relaxation areas and regular health seminars. Nobody is more committed than Nuffield to your overall health and wellbeing - and above all they go that extra mile to ensure that each visit is enjoyable.
What is a Fitness & Wellbeing Centre?
Nuffield provide a fully equipped fitness area and swimming pool where you can enjoy all of the latest machines & facilities. Whether you want to run, swim or row; step (to increase your cardiovascular fitness) or tone and improve muscles with weights and resistance training, you'll find it all at Nuffield. And you'll be supported and guided by their team of highly trained Fitness & Wellbeing Advisors who can help with your health, fitness and exercise plans and answer any questions you may have.
Classes
It doesn't matter whether you are a complete novice or an experienced fitness class attendee - at Nuffield, their range of fitness classes has something for everyone - and for all fitness levels. Every class is run by an experienced, fully trained Fitness Instructor and the various classes incorporate a wide range of different types of fitness activity, including workouts for muscle toning and endurance; all-over body workouts combining calorie burning and muscle workouts; calorie-burning workouts like step aerobics and cycle classes; Yoga to help you re-energise & relax; and specialist classes like Pilates for strength and prevention / rehabilitation.
Your Wellbeing Advisor will help you to select the class style most appropriate to you.

The Nuffield Health Fitness and Wellbeing Centre also offers:
Physiotherapy services - from specialist advice & treatment by their expert physiotherapists to help you stay in control of joint & muscle problems, to a bespoke management plan for prevention, intervention & rehabilitation.
Relaxation areas - a huge range of soothing and pampering treatments to help you relax & unwind, including a range of Elemis relaxation therapies; along with other complementary therapies such as deep tissue and Indian head massage.
Employee Benefits / Corporate Programmes
A cost - or an investment? Enlightened employers recognise the benefits in providing employee Fitness & Wellbeing membership (85 of the Times Top 100 companies have corporate / employee fitness membership schemes in place). Your reward is improved employee morale; more productive employees; reduced absenteeism and a measurable impact on costly issues e.g. stress and back pain. Nuffield have many years of experience of partnering with companies - large and small - and can help you to show the value of employee membership.
With a wide range of schemes available, from full health assessments to simple health club membership - it's simple and cost effective, and the employer can pay for staff to join, subsidise their fees, or simply offer a discount scheme. Nuffield assist with the administration and can help set up the scheme as part of a flexible benefit or salary sacrifice programme, making health club membership more affordable and accessible for employers of all sizes and their employees. As detailed earlier, Nuffield is much more than just a gym, offering a wide range of joined-up health services, so your employees get access to health assessments, physiotherapy, hospital services and much more - all working together to deliver great results and improved health.
Interested in investing in your employees? To get details on setting up a corporate scheme, just click on the 'visit website' link at the top right of this page and follow the instructions on their website.

The Nuffield Health Fitness & Wellbeing Centre in Telford is open as follows:
Monday - Friday : 6.30am - 10.00pm
Saturday - Sunday : 8.00am - 8.00pm
Selected bank holidays : 8.00am - 8.00pm
but please check by calling them on 01952 293444 before you make a special journey.
Nuffield Health is a registered charity and the leading UK Health Charity, with an objective to advance, promote and maintain healthcare of all kinds. With no shareholders, Nuffield are free to re-invest any profits made into increased and improved services to their clients. Independence means they are in a unique position to constantly challenge the accepted way of doing things, anticipate your needs and seek to improve what they do and how they do it. Nuffield Health combine the best disciplines of business with the social values of charity - as a charity, success is defined by their ability to improve people's health - as a business, success is driven by customers' long-term satisfaction. They are highly recommended by their clients.