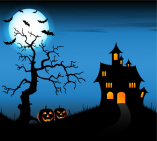 Date:
25/10/2014
Hestercombe Gardens will be having a spooky trail this Halloween or if you are feeling brave you can join the Halloween party and Terror Tour at Hestercombe House. There are even more scarier tours for over 16s after 9.00pm.

Date: 04/11/2014
If you are looking to lose weight or earn some extra cash in 2014 this is for you

Date: 05/11/2014
Taunton Racecourse will be having the largest, most spectacular Bonfire & Fireworks display with a impressive flame show. There will also be a Hog Roast, BBQ, Refreshments an various different attractions which will be all raising money for St. Margaret's Hospice Somerset and the League of Friends at Tauton's Musgrove Park Hospital.