Bennett's Taxis
(

2

reviews)
about us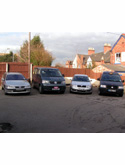 Taxis and Private Hire from Tamworth's finest firm.
<?xml version="1.0"?>
Looking for a Friendly, Helpful & Reliable Tamworth Taxi Service?
Call Bennett's Taxis on Tamworth 54444

Calls answered 24 hours

Bennett's Taxis have a large range of private hire vehicles available including:
Saloons
Estate cars
London cabs
7 Seater Euro cabs
8 Seater Minibus
All our taxis around Tamworth are fitted with the latest, state of the art, technology with global positioning. This enables our fully trained base staff to pinpoint the nearest and most suitable taxi and dispatch it to you in miliseconds.
Bennett's Taxis also offer a free ring-back service so our taxi driver will make your telephone ring twice to let you know they are almost there. This saves you from having to wait for taxis outside in the cold, or from having to keep your nose pressed to the window to see if the cab is there yet.
We have wheelchair friendly London cabs and Euro cabs which are capable of carrying passengers in their wheelchairs in comfort and safety.

No job too small!

Call Bennett's Taxis for
Airport Transfers
Days/Nights out shopping
Travelling to schoolor work
Parties
Weddings
We currently offer private hire services to in excess of 100 corporate clients around Tamworth, Local Education Authorities and Social Services. We would be very happy to include you in our client list.
Why not give Bennett's Taxis a ring to check out our competitive rates.
---
Please mention 'The Best of Tamworth' when calling.
Contact Us


28 Marmion Street
Tamworth
Staffordshire
B79 7JG