about us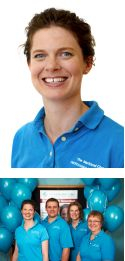 The Markland Clinic in Swindon specialise in physiotherapy and rehabilitation services. If you have a neck injury, chronic back pain or sports injury, call the team today to make an appointment. They are registered with the Health Professions Council.
<?xml version="1.0"?>
---
The Markland Clinic
For Professional Physiotherapy
In Swindon
UK's most loved Physiotherapy and Sports Injury Practice 2011
Located in Latham Road, Blunsdon, Swindon, The Markland Clinic provides physiotherapy and rehabilitation of the highest quality.
Owned by Specialist Physiotherapist, BSc (Hons) PG Dip MDT SRP MCSP, Kate Markland, the qualified team of clinicians strive to deliver the best standard of care possible and strive to exceed the expectations of their patients. 
To make an appointment, call now!
01793 469309
Recommended by The Best of Swindon
---
Services
The Physiotherapists at The Markland Clinic want their patients to have physical confidence in their health and wellbeing.
Service provided includes:
Rheumatology and Arthritis
The ethos at The Markland Clinic is to help you understand your problem in order for you to manage it well in the future.
One client recently said:
"I want to thank you for the help and support you gave me through January with my injury. Despite 3 breaks in my arm I have reached the targets we set and can now hold the handlebars on my motorbike. Thanks again."
For independence, not dependence, contact The Markland Clinic today.
01793 469309
---
Sports Injuries
Whether you enjoy sport at a recreational or competitive level, the physiotherapists at The Markland Clinic aim to maximise the sporting potential of their patients.
If you have suffered a sports injury, a variety of treatment options including:
Exercise Based Rehabilitation
Lots of education and advice is also given to help you manage your injury and prevent it from happening again.
To make an appointment, call now!
01793 469309
---
Why Choose The Markland Clinic?
More and more people are choosing The Markland Clinic for Physiotherapy and Sports Injuries for the following reasons:
The Physiotherapists are all registered with the Health Professions Council

They have extensive experience and skills to treat joint problems and sport injuries

There is no waiting list - you will get an appointment quickly

They will get to the root of your problem fast

You will have access to state of the art equipment to aid your rehabilitation

They offer a 100% satisfaction guarantee
---
For further information on The Markland Clinic in Swindon, please call the team today!
---
Please remember to mention thebestofswindon when contacting The Markland Clinic
Contact Us

David Lloyd,
Latham Road,
Blunsdon,
Swindon
SN25 4DL