The Best of Stroud - based in The Cotswolds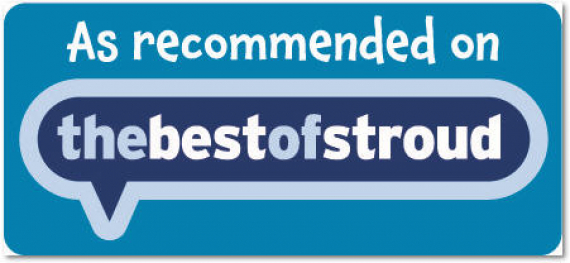 about us
The Best of Stroud is where you will find THE BEST businesses in The Cotswolds and Stroud, tried and tested by the people who really know - the local residents! If you are BEST at what you do, you might qualify to be on the site ...........................and we've just won an Award too!
THE BEST OF STROUD
Tel: 07894 507559
E: stroud@thebestof.co.uk 
W: www.thebestof.co.uk/stroud
The Best Business Awards aim to highlight and reward excellence across the private and public sectors: and we've just won!!
Commenting on the 2011 award to thebestof for Best Small to Medium Sized Business, Andrew Areoff, Chairman of the Judges, said: "Politicians describe small businesses as the engines of growth and it is great to hear of a service giving independent traders a way of standing out so they are recognised as the best in an area. In these days when it is vital to have an edge in business, thebestof allows consumers to see at a glance which companies and services have been rated highly by those who matter the most - customers. Helping businesses, the consumer and communities, thebestof is an outstanding example of best business!!
If you are wondering how to promote your business to both existing and potential customers in Stroud & the surrounding Cotswolds ......... read on!
Have a look at just SOME of the ways we help promote YOUR business!
Social Media (Twitter and Facebook)
The Best of Stroud offers business support & networking + marketing for The Best businesses in the Stroud area and is designed to bring YOUR business to the attention of customers across both Stroud in the Cotswolds and the rest of the World Wide Web!
The Best of Stroud marketing and business support services are appreciated by a wide variety of Stroud and area businesses - retail shops, hairdresssers, business coaching, garages etc - in fact anyone who considers themselves to the THE BEST OF ....
At The Best of Stroud we take great pains to make sure that our clients really ARE the best in their field, we take personal recommendations and reviews & consider that acceptance onto the site is proof to YOUR clients that you are The Best at what you do - and why. There are other Search sites on the net, but how often have you looked for "Bookkeeper Cotswolds" and come up with a list of Accountants from Land's End to John o'Groats - usually just an address and telephone number, and NO idea what the company is actually like? The Best of Stroud is TRULY local - check out our Events section - potential businsss from both within The Cotswolds and those coming to our beautiful area for a holiday will find us when they are looking for something to do - and that means that they find YOU too.

Do YOU have a special day or offer to promote - Open Day, Fund Raiser, Sale? Let us know at The Best of Stroud - for clients and charities this is a completely FREE service - and how often do you get something for nothing?!
DO YOU WANT TO BE RECOGNISED AS THE BEST IN
STROUD & THE COTSWOLDS?
Marketing with The Best of Stroud + our business support & networking can help you communicate with your clients better, promote both your retail, corporate or service business and your own website.
We can add a LINK (like this) to any number of extra dedicated pages - for special offers, newsletters, sales, terms and conditions - whatever you want and all at NO extra charge on the small monthly hosting fee.
Best of all - we're genuinely LOCAL - we live in the area, we know it well and we love it. We want to help OUR area - and this means you!
The Best of Stroud

We'd love to know what you think of the site - or US - please be so kind as to write a review.
The Best of the North Cotswolds Category: Marketing + Business Support & Networking www.thebestof.co.uk/northcotswolds

Thank you for visiting The Best of the North Cotswolds
We also have a site covering the North Cotswolds - please click on www.thebestof.co.uk/northcotswolds
If you know of a business that should be on this site, please let us know - click on the Recommendations tab and the site will tell you what to do!
Come & join our membership and be one of the Best of Stroud!
Contact Us

Cheltenham
Gloucestershire
United Kingdom

GL51 7BB

find us here

follow us

This is a live stream from Twitter - not the voice of thebestof!

find us on facebook

thebestof awards

accreditations


Creme de la creme

Best Business Award