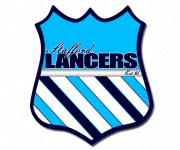 Stafford Lancers
Meetings Held At:
Sir Graham Balfour High School
North Avenue
Stafford
ST16 1NR
T:
07770792939
M:
07770 792939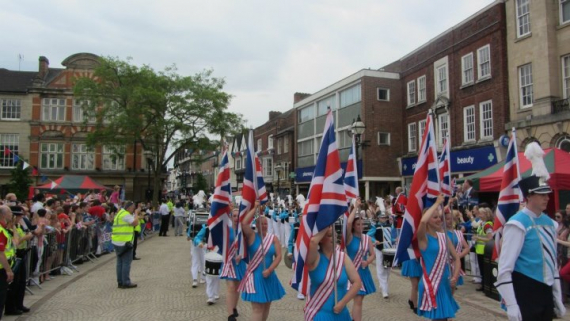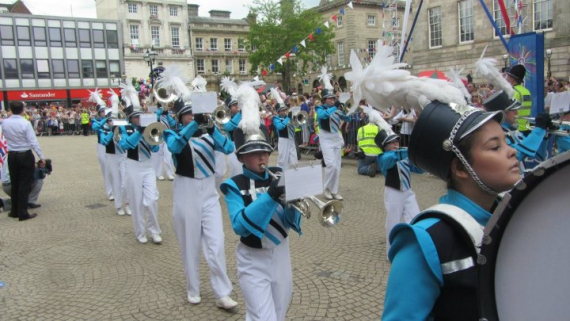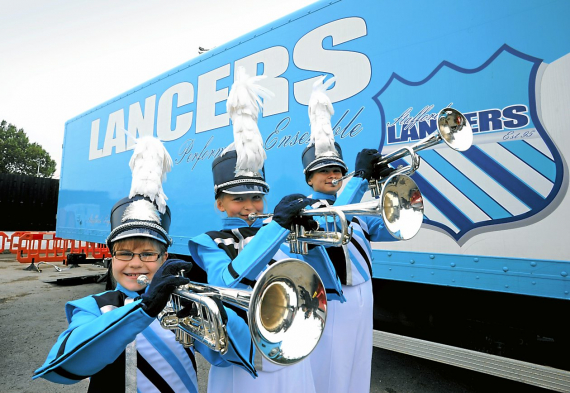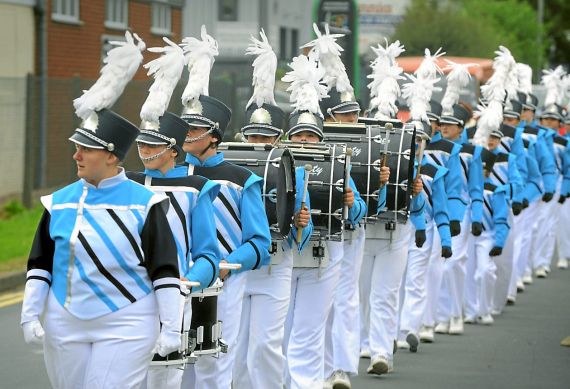 about us
Stafford Lancers are the pride of Stafford and have been entertaining Stafford and beyond for over 15 years as the countries leading show band. Helping the community, developing essential life skills, making friends and having fun along the way. Stafford Lancers
Stafford Lancers
For Performing Arts
In Stafford
The Experience of a Life Time
Stafford Lancers offers local children the chance to learn fundamental life skills that will last for years. As well as have fun make friends and gain social skills.
Join the Team in 2013
We are a Show Band (Drum Corps) consisting of Brass (Horn Line), Drumline (Battery), Auxillary Pit Percussion (Front Ensemble) and Guard (Dance) sections. Founded in 1995 the organisation provides an interesting and healthy hobby for young people of all ages, through a structured and positive learning environment, helping to install the values of discipline, dedication, commitment and respect which are carried into the community with a true sense of purpose and pride.
Lancers are registered as a Local Authority approved youth group and are members of the British Youth Band Association (BYBA) and Drum Corps United Kingdom (DCUK) in whose approved national contests we compete, gaining recognition for our performances. We provide entertainment for the general public through shows, performances, concerts and competitions.
Each year the staff design and co-ordinate a musically and visually sophisticated programme fitted to the talent levels of our members. Throughout the winter, fundamentals of music and marching are taught and our members begin learning the program. By late spring the finishing touches are added and it is time to take the show on the road. Throughout the summer we perfect and fine tune the show right through to the British Finals in October!".

Some recent high profile appearances have included leading the "Olympic Torch Parade", our fanfare team performing at the Christmas Lights Switch on, plus appearing in "McDonalds Great Tastes of America" commercial, "The Kleeneze Sales Conference" and performing infront of 150,000 people at "The Goodwood Festival of Speed" alongside the likes of Brian May from Queen.
How to Join
The only requirements to join Lancers are : -
- You're aged between 10 and 25 years
- A Positive Attitude
- You are able to get along to rehearsals
- You can afford £4.00 subs per week
Lancers schedule is designed so it doesn't take up all your time, so that you can enjoy other fine things in life, but we are sure that once you join Lancers it will be the finest thing in life!
Why not pay us a no obligation visit by Clicking Here!
Stafford Lancers in 2013
Follow Lancers down the rabbit hole for 2013 as Lancers look to tell the story of Alice as she finds her way through Wonderland and the many adventures she gets caught up in.
Lancers will be using popular music to tell the story, including:
- Sweet Disposition (The Temper Trap)
- Viva la Vida (Coldplay)
- Rolling in the Deep (Adele)
- Someone Like You (Adele)
- Shine (Take That)
Sweet Dreams (Eurythmics) will be used as our main musical thread through the whole show, to symbolise Alice's Dream state throughout her adventures in Wonderland.
Join Lancers in 2013 as we go through the looking glass into a "hole" new Wonderland!
find us here

our videos

our videos

our videos

follow us