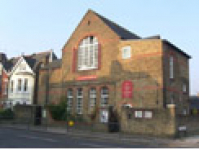 Kew Studio
St. Luke's House
270 Sandycombe Road
Richmond
Surrey
TW9 3NP
T:
020 8332 2122
about us

Kew Studio - Community owned charity offering offering workshops and individual tuition to aspiring artists in the borough of Richmond.
Set up in 1980, the Kew Studio was founded by artists in this beautiful old Victorian school building, to encourage people to become more aware of the visual arts and to become involved in the creative process.
Nowadays Kew Studio welcomes aspiring and established artists at all levels of experience, offering workshops, classes and individual tuition to residents in the borough of Richmond and surrounding areas.
Membership
All Studio facilities are open to members on payment of the relevant fees:
Annual Membership (Single) £48.00
Annual Membership (Couple) £58.00
Concessions £33.00
A current membership card entitles the member to buy artists' materials for a 10% discount at certain suppliers.
Kew Studio Resident Artists

Kew Studio welcomes aspiring and established artists at all levels of experience to be resident:
Membership of a thriving community of artists
Services
The Kew Studio offers a complete range of services to it's members, including:
Etching and Screen Printing
For more information about Kew Studio and charities in the borough of Richmond, please contact:
---
Kew Studio
St. Luke's House
270 Sandycombe Road
Richmond
Surrey
TW9 3NP
020 8332 2122
---
Please mention thebestofrichmond
when contacting Kew Studio for
charities in the borough of
Richmond upon Thames
© thebestofrichmond