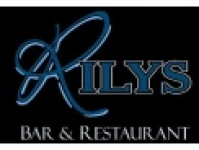 Rilys Bar & Restaurant
1B The Quadrant
Alcester Street
Redditch
Worcs
B98 8AE
T:
01527 531413
about us



At Rilys in Redidtch we offer a new, fresh approach to distinctive food and fine wine with truly excellent customer service.
The modern and chic Rilys Restaurant in Redditch. Rilys will impress your friends and associates. A place where you will want to meet, socialise and enjoy the experience of fine Indian cuisine and great hospitality and wonderful service.
The design and décor has been put together to give a rich and welcoming feel. Our team of friendly staff are attentive. It is their aim to ensure that your visit will make a lasting impression.
Rilys offers the ideal setting for that perfect business or social gathering. We offer a spacious yet personal environment, with a relaxed atmosphere and impressive décor. With a contemporary feel, the ambiance within the restaurants is guaranteed to impress.
Fabulous Cuisine
Prepared and cooked by award winning chefs - recent finalists in the British Curry Awards (sponsored by Barclays and Kingfisher Beer). Rilys delicious menu is famous in Redditch and surrounding areas for offering a unique taste of real Indian cuisine; only the freshest and highest quality ingredients are used to create our dishes, then giving a twist with a modern and imaginative approach - guaranteed to impress our most discerning clients.
Excellent Service
Approachable, knowledgeable and attentive service contributes to the excellent reputation that Rilys has established. Our chefs, managers and waiters are the best in their field - giving Rilys visitors a first class service.
Nestling beside the famous Palace Theatre in Redditch, with a new concept
in fine dining - RILYS, already established itself as one of the
FINEST is the ideal place for your pre / post theatre meals.
OUR OPENING HOURS
RILYS Redditch
SUN - 5.30pm - 11.00pm
MON - THURS - 5.30pm - 11.30pm
FRI & SAT - 5.30pm - 12.00am
Our own car park at the rear of the Palace Theatre
Book your table, or takeaway meal on 01527 60544
We can also prepare our meals for you to enjoy at home and offer a 20% DISCOUNT on collection of takeaway meals and 10% DISCOUNT on deliveries within a 3 mile radius.
Please mention thebestofredditch when responding to this feature in Indian restaurants and Takeaways.
.