Reading Football Club Plc
about us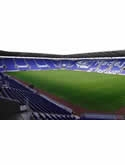 Reading Football Club - join the match day fun at our fantastic home ground - Madejski Stadium.
Reading Football Club was formed in 1871 and for 23 years played only friendlies and Cup matches. In 1894, Reading FC became founder members of the Southern League and, to improve it's playing standards, the club adopted professionalism in 1895.
Reading Football Club moved to it's magnificent home ground, Madejski Stadium, in 1998, after 102 years at Elm Park.  The stadium complex also houses the luxury Royal Berkshire Conference Centre, the Millennium Madejski Hotel and the Indoor Training Centre.
The 24,200 all-seater stadium is a fantastic place to watch football and houses four different stands from which to enjoy all the sports action on the pitch. 128 wheelchair spaces are available - offering excellent viewing and weather protection.
Reading FC is a highly ambitious football club and Chairman John Madejski is determined to taste life in the Premiership.
---
Reading Football Club Match Days
Gates normally open an hour and a half before kick off.  The bars are open for refreshements and drinks before the game.
Pre-match entertainment includes exclusive action from recent matches on the giant video screen.

Reading Football Club Hospitality - 0118 968 1303/1302
A fantastic range of hospitality packages is available to suit every need.

Reading Football Club Sponsorship - 0118 968 1305
A great range of Matchday Sponsorship packages is available - Match, Associate Match, Matchball, Stand

Reading Football Club Sporting Dinners - 0118 968 1302
A brilliant evening - fine food, fine wine and fine company. Guest speakers from around the world and the finest comedians amke for a fabulous time.  Held twice a year.

Reading Football Club Stadium Shop - 0118 968 1234
The Reading FC Megastore is open Monday to Saturday 9am to 5.30pm and on Sundays during the football season. Closed during matches.

The store carries a full range of Royals merchandise and an official shirt printing service.

Shop online at www.readingfc.co.uk

Reading Football Club Stadium Tours - 0870 999 1871
A fully-guided tour, which includes the changing rooms, Directors' Lounge and hospitality areas.  Wednesday afternoons at 4pm.
 
Reading Football Club Mascots - 0118 968 1415
Being a Reading FC mascot is very popular and spaces are filled quickly.  All available spaces for 2005/06 are taken, but you can resiter your interest for 2006/07.

The Dome - 0118 968 1202
The state-of-the-art Indoor Academy Training Centre is available for hire by the hour. 
Contact Us

Madejski Stadium
Reading
Berkshire
RG2 0FL