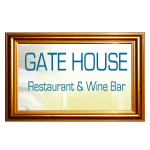 The Gatehouse Restaurant
Canalside
The Gatehouse Restaurant
White Cross
Lancaster
Lancashire
LA1 4XQ
T:
01524 849111
about us
The Gatehouse Restarant has perfected a combination of Mediterranean dishes, brasserie-style elegance and traditional British food. With our unrivalled position on the Lancaster canal, we are a destination for customers from Preston and further afield. Our bistro cum wine bar will also tempt you.
THE GATEHOUSE RESTAURANT and WINE BAR
ELEGANT and RELAXED DINING
LANCASTER CANALSIDE SETTING
Situated on the edge ofLancaster's historic city centre, the Gatehouse Restaurant is elegantly positioned overlooking the historic canal. The combination of relaxed dining in a beautiful location coupled with an unrivalled selection of superb dishes on our menu makes the Gatehouse Restaurant one of the preferred dining venues in the city. And not only Lancaster – many of our regular customers come from nearbyPreston.
With a lively yet relaxed atmosphere the Gatehouse Restaurant in Lancasteris an ideal place to impress without formality.


A Menu to Suit You
Open every day, we serve a variety of Mediterranean, modern and traditional English cuisine for lunch and dinner. We offer a la carte and set menus to suit any occasion.

Kick Back with a Glass of Wine
To complement our spacious dining area, we also have a modern bar area with comfortable leather sofas. It is the ideal venue for a light lunch, or in the evening enjoy a glass of wine or cocktail before your meal or a coffee and liqueur afterwards.
The stunning variety of dishes on offer – from Mediterranean to brasserie style to bistro bar style, the Gatehouse Restaurant in Lancasterhas everything you are looking for in a destination restaurant. Easy access from Preston, Blackpool, Morecambe and Carnforth.


Here is a mouth-watering selection from our menu
VEGETARIAN STARTERS
FRIED HALLOUMI
With sweet pickled red onion and tomato salad
GOATS CHEESE AND
TOMATO TIAN
Goats cheese layered with puff pastry, beef tomato and pesto served with a basil dressing
SEAFOOD STARTERS
MOULES MARINIÈRE
A large bowl of mussels in a sauce of white wine, onions, garlic and cream
SPICY FISHCAKE
Crab & salmon Thai fishcake with a lime and chilli dressing & sour cream
SPICED ROAST AUBERGINE
Served chilled in a baked red pepper with mango and vanilla yoghurt
FILO FETA PARCELS
Feta cheese, sun-dried tomatoes and sage wrapped in filo pastry and served hot with a mint yoghurt dip
OTHER DISHES
VEGETARIAN NICOISE
New potatoes, boiled egg, in chive mayonnaise on watercress, green beans and cherry tomato
DEVONCRAB AND WATERCRESS SALAD
With dill crème fraiche and capers
FRIED MONKFISH
On pancetta with thermidor sauce and pea veloute
BLACK PUDDING HASH BROWN
With sautéed mushrooms and a blue cheese sauce
THE GRILL
ROAST RUMP OF LAMB
With basil mash, pancetta and a rich gravy
HOUSE FILLET
With blue cheese hash brown, and port gravy
ROAST DUCK BREAST
With carrot and fennel sauce, polenta cake and chilli jam
ROLLED BELLY PORK
Rolled with orange and cumin, on a black pudding rosti, sticky red cabbage and sage gravy
VENISON ROSSINI
Venison steak served pink on a garlic crouton with homemade chicken liver pate and a rich red wine sauce
SEAFOOD
BAKED SALMON FILLET
Lemon and sour cream potatoes, watercress dressing and roast cherry tomatoes
PAN-FRIED SEA BASS FILLETS
Sweet curried root vegetables with wilted spinach and nutmeg
ROLLED LEMON SOLE
Filled with prawn & red pepper mousse on a potato cake with lemon and caper beurre blanc
VEGETARIAN
MUSHROOM AND CHESTNUT PITHIVIER
Puff pastry case filled with mushrooms, chestnuts and ricotta with asparagus sauce
SWEET POTATO, LEEK AND GINGER CRUMBLE
CHICKEN LIVER PATE
With toasted ciabatta, fresh leaves and red onion jam
SPICY THAI FISHCAKE
With chilli sauce and sour cream or served on a large tossed salad
BLACK PUDDING HASH BROWN
With fried mushrooms and blue cheese sauce
GOATS CHEESE AND TOMATO TIAN
Layered with basil pesto, puff pastry and served on fresh leaves with basil and red pepper sauce
FILO FETA PARCELS
Feta and sun dried tomatoes wrapped in filo pastry and served with mint yoghurt
MORE!
GATEHOUSE PLOUGHMAN'S
Ham hock and leek terrine, chilli tomato compote,Lancashirecheese, sweet pickled sliced red onion, salad and warm home baked bread
EASTERN PLATTER
Spiced aubergine dip, falafel, hummus, marinated olives and filo feta parcels with fresh leaves and olive ciabatta
MUSSELS & FRIES
Large bowl of mussels in white wine garlic and cream sauce with homemade fries
FILLET OF SEABASS
Single fillet of seabass with fries and sweet curried root vegetables
CAJUN CHICKEN BREAST
In cajun spices, served on half ciabatta with mint yoghurt and fries
PORK SCHNITZEL
With blue cheese sauce, fries and greens
10oz HOMEMADE BEEFBURGER
With fries, green leaf and tomato salad and chilli tomato compote
PAN-FRIED SALMON FILLET
With watercress dressing, baked cherry tomatoes and lemon beurre blanc
SWEET POTATO, LEEK AND GINGER CRUMBLE
Creamy casserole with a light crumble topping
TRY OUR EARLY BIRD two or three course menus
Available all evening Sun, Mon and Tue
And 5PM - 7PM on Wed, Thu and Fri
MENU
A LA CARTE: Every evening
SET MENU: Every evening except Sat
LUNCH MENU: Lunchtimes Mon - Fri
SUNDAY LUNCH MENU: Sunday lunch only
LUNCH
Mon-Fri 11am – 3pm
Orders taken 12 - 2pm
Sat Closed
Sun 12 - 2.15pm
DINNER
Mon-Fri 5pm - 9.30pm
Sat 5.30pm - 10pm
Sun 6pm - 9pm
---
Please mention
thebestofpreston
when responding to this advertisement