Curves Portsmouth
(

3

reviews)
about us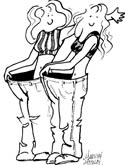 Curves – Portsmouth's Premiere Ladies Only Health and Fitness Club
<?xml version="1.0"?>
Curves are the world`s largest chain of health and fitness clubs dedicated to providing affordable, one-stop exercise and nutritional information for women.
Everything from the fitness equipment we use, to the diet we recommend was created for you.
At Curves health and fitness club North End Portsmouth, we give you the support you need to amaze yourself.
CurvesSmart is the worlds most advanced fitness programme,and is exclusive to Curves. CurvesSmart provides almost 'personal trainer' levels of workouts for a fraction of the cost. A 20% increase in inches lost is normal, and members burn over 500 calories in just 30 minutes. CurvesSmart motivates you to acheive personal goals, and provides moment to moment feedback, and monthly printed reports.

Thinking about going to the Gym? Take advice from these local Ladies…….
Jenni - (aged 27). "I had heard that traditional gym's do not provide the support to motivate regular attendance, in fact they seem happy if you pay and don't attend. Curves nag you into coming and support you all the way. The workout and the nutrition plan have made me the smallest I have been in my adult life"
Beryl - (late 60's). "I have Type II Diabetes and need to exercise to combat this terrible condition. In a year at Curves I lost 36 pounds and 32 inches from my figure. The happy, female only atmosphere is wonderfully comforting."
Liz - (Late 30's). "When my son turned 10 and I was still carrying the effects of my pregnancy I turned to Curves as diets had always failed to give me permanent results. I have been a member for nearly 2 years and the results are amazing. The atmosphere and camaraderie is brilliant - I love it at Curves!"
Shelley - (24). "I put on 5 stone with my first child and can't believe that a few months at Curves has lost all that, and more. I am in a size 10 dress again thanks to the amazing staff at Curves."
Helen and Marion (50 somethings). "Attending Curves together improves our commitment to regular attendance - and this leads to better results - 74 pounds and 80 inches gone between us. The discipline of the monthly weigh and measure keeps you on track to achieve your goals. We love being greeted by name and joining in the special fun days."
Nikki (40-ish). "I am 90 pounds lighter since joining Curves. The new CurvesSmart system is brilliant. My workout is unique to me - it is like having a Personal Trainer for around £1 a day - what value!"
The local Curves Club members have lost over 1,000 stone and more inches than 5 Spinnaker Towers on top of each other! So why even think about going elsewhere? At Curves we give you a 30 minute workout which fits your busy lifestyle, making it easy to change your dress size and your life. It is fun, fast and safe for all women, any age, shape, size and current fitness level. Give us a call - you will be glad you did.
Are you ready to amaze yourself?
If the answer is YES, call Curves Health & Fitness club Portsmouth on 02392 663030
---
Opening Hours
9.00am to 7.30pm Monday to Thursday
9.00am to 6.30pm Fridays
9.00am to 1.00pm Saturdays
We also have a Curves Health and Fitness Club at; 27 London Road, Cowplain (Tel: 02392 250006) The owners were recently awarded the "BEST" Curves health & fitness club in Europe, beating over 500 other clubs!
Please mention thebestofportsmouth when contacting.
Contact Us

3rd Floor
120 London Road
North End
Portsmouth
PO2 0NB

our audio

thebestof awards