Barn-Store
about us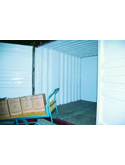 Barn-Store – offering safe and secure storage services for residents and businesses in Petersfield
<?xml version="1.0"?>
---
Barn-Store
Tel: 01420 511777
---
BARN-STORE - PROVIDERS OF SAFE STORAGE SERVICES TO RESIDENTS AND BUSINESSES IN AND AROUND PETERSFIELD.
Do you need more storage space in your Petersfield home or work place? Then call Barn-Store today on 01420 511777.
---
Barn-Store is an independent, family run self storage business providing storage services for all your self storage needs (*) including:
· Storage space when moving house
· Storage space if you are converting your loft
· Storage space for office archives, files or records
· Storage space for business stock or equipment
(*) certain restrictions will apply
---
Barn-Store's self storage provides do-it-yourself storage space for members of the public and businesses. Whatever size of secure lockable container, or whatever length of time you need it for, Barn-Store will be able to provide you with a storage service to suit you.
---
Why Barn-Store?
As a family-run business, we live on site, and pride ourselves in the high level of service we provide. You can rest assured that our storage service is safe and convenient for residents and businesses in and around Petersfield.
---
Need a storage company where you know your household items or business documents and archives are going to be safe? Then call Barn-Store today on - 01420  511777
---
If you require access to your items held in storage, Barn-Store provides unlimited access during business hours to anything you have in our storage containers. You will be able to transfer goods in and out of the storage area without the use of machinery, or the need for us to assist, however, we are on hand if you need us!
---
Barn-Store offers cost-effective solutions to your storage problems. Call us today on 01420 511777 and we will be happy to give you a very competitive quote for your storage needs.
---
If you need additional storage space for your Petersfield home or business, call Barn-Store on 01420 511777. Alternatively, you can visit the website by clicking here or simply send an email to selborne@barn-store.co.uk and mention that you saw Barn-Store recommended under Storage Services on 'The Best of Petersfield'.
---
Contact Us

Barn-Store
Hartley Park Farm
Alton
Hants
GU34 3HS