Prewetts Health Foods Ltd
about us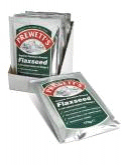 Health eating is important. If you are looking for quality health products at competative prices then contact Prewetts Health Foods of Oldham
At Prewetts Health Foods Ltd we have been making great health foods for over 135 years and have a great range of health eating products.
---
Although based in Oldham at Prewetts Health Foods we supply health products throughout the UK to major outlets such as Holland & Barrett, Waitrose and Booths.  We can also supply our health products direct to your home - visit our website to find out more and place and order with us today.
All our health foods are of the highest quality and are competatively priced.  We have a great range of organic oatmeal, wheat bran as well as no salt salt substitute and organic flaxseed, a great source of Omega 3
Prewetts Organic Ground Flaxseed is a great health product. Naturally high in Omega 3 and with a range of other vital minerals, vitamins and proteins it can help keep you healthy and reduce cholestorol. Omega 3 is essential for our bodies well being and our organic flaxseed is a great way to get the right amount , especially for those who don't like fish!!
As well as our healthy oats and bran we have our range of Sunwheel Fruit Spreads - 100% pure fruit, a great alternative to jam! We have a range of delicious flavours for you to try.
For our health we should cut down on our sodium intake and Prewetts No Salt Salt Substitute can help with your healthy lifestyle!
So as part of your healthy lifestyle remember Prewetts health products:
Organic Flaxseed a great source of Omega 3

Healthy oats and brans

No Salt salt substitute 

Sunwheel fruit spreads
Prewetts Health Foods of Oldham - great health products for that healthy lifestyle.
If you contact Prewetts Health foods of Oldham, please emtnion the Best of Oldham
Contact Us

Unit B Boarshurst Business Park
Boarshurst Lane
Greenfield
Oldham