Kelly's Bakeries
(

3

reviews)
about us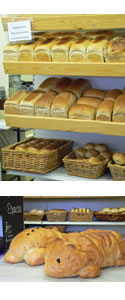 Bread and Cakes baked fresh each day by the bakers at Kelly's Bakeries Lenwade, near Norwich. See the bread and cakes being made on the premises - and they cater for gluten free and other dietary needs.
Do you love that smell of fresh home baked bread? Do you pine for the taste of that warm, straight from the oven loaf? Or that melt in the mouth home made cake?
At Kelly's Bakeries in Lenwade near Norwich you can see the bread and cakes being made by the bakers on the premises as you are being served - they don't come fresher.
Kelly's Bakeries is a family bakers business and everyone who works there prides themselves on knowing many of their customers by name: "We aim to brighten up their day"
The bakery makes freshly baked cakes, muffins, fruit pies, meat pies, sausage rolls and freshly filled sandwiches. The easy access and parking, just off the Fakenham Road coming from Norwich, makes this a welcome stopping off point for day trippers, locals and local workers to pick up their lunch.
Wedding cakes, birthday cakes and other special occasion cakes are all baked to order and can be decorated with your favourite photo using state of the art technology.
The bakery can also make speciality breads to order including dietary breads, gluten free bread and pure rye loaves - so if you are looking for something different, give them a ring.
As well as the bakery in Lenwade, you can also visit Kelly's Bakeries in Drayton, just off the Taverham Road.
The two bakeries are well equipped to supply catering for any occasion: weddings, birthdays or anniversaries. All cakes, breads and savory items can be made to order.
Hog Roasts can also be provided if you are looking for catering with a difference.
---
Please mention the Best of Norwich when contacting Kelly's Bakeries for your cakes and savories.
---
The Best of Norwich for the Best Bakers
Contact Us

63a Fakenham Road
Lenwade
Norwich
Norfolk
NR9 5SE

our audio