The Cartshed Grindon Farm
about us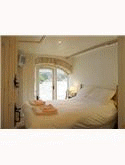 Stylish Bed and Breakfast serving Hexham and South Northumberland
When David and Jackie decided to branch out into bed and breakfast accommodation they wanted to create something special.
From the minute you turn off the road you can see that they've succeeded.
The first thing you see is the conservatory. Inside it just oozes a calm and relaxed atmosphere. You can see yourself curled up on one of the sofas reading the paper or looking out over the panoramic views of the beautiful Northumberland countryside. It's hard to image that only 15 minutes ago you were in Hexham or on the A69.
As you walk into either of the three bedrooms, that sleep a maximum of 6, I'd be amazed if the word 'wow' didn't escape from your lips as you saw the quality of their holiday cottage
All the bedrooms are en-suite with either a shower or wet room, one has easy access for their guests who find it a little difficult to climb stairs.
The bedrooms are in the old cart shed, hence 'The Cartshed'. The renovation has been done to the highest standards and has retained all the original features.
Being in the heart of Northumberland within walking distance of Hadrian's Wall  you'd expect local produce to be used for breakfast and evening meals and you won't be disappointed.
If you fancy a drink with your meal you'll be pleased to know that Grindon Farm holiday cottage is licensed.
Grindon Farm is ideally located to explore Hexham, Hadrian's Wall  the Tyne Valley, Keilder and beyond
So if you're looking for bed and breakfast accommodation that truly is different then Grindon Farm is definitely what you've been looking for.
David and Jackie will be delighted to welcome you, so why not ring now and book on Hexham (01434) 684273.
---
The Cartshed
Grindon Farm
Haydon Bridge
Hexham
Hexham (01434) 684273
Please mention thebestof Northumberland when you ring to book their bed & breakfast accommodation
Contact Us

Grindon Farm
Haydon Bridge
Hexham
Northumberland
NE476NQ

our audio